Back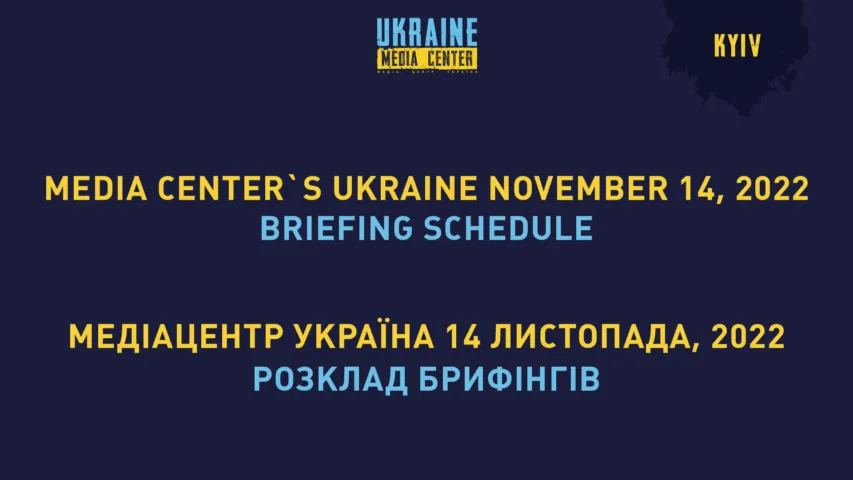 November 13, 2022, 18:36
SCHEDULE OF MEDIA CENTER UKRAINE – UKRINFORM EVENTS (KYIV, 8/16 B. KHMELNYTSKOHO STR.) FOR NOVEMBER 14
12:00 PM — Kateryna Chuieva, Deputy Minister of Culture and Information Policy of Ukraine
Maksym Iarmystyi, Acting Head of the Ukrainian Institute of National Remembrance
Hanna Demydenko, Head of the Expert Group for Interaction with Public Associations and Development of the Veteran Movement of the Directorate for Public Identity and Veteran Development
Ihor Poshyvailo, General Director at the National Memorial Complex of Heroes of the Heavenly Hundred – Museum of the Revolution of Dignity
(in person)
Press conference — announcement of the action plan for the Day of Dignity and Freedom. During the press conference, the current social campaign, motto and key theses for celebration of the 9th anniversary of the Revolution of Dignity will also be presented.
1:00 PM — Iurii Ihnat, Speaker of the Air Forces Command of the Armed Forces of Ukraine (online)
Topics of focus:
Consequences of russian missile attacks on Ukraine
Work of the Air Defense Forces
3:30 — Serhii Marchenko, Minister of Finance of Ukraine (in person)
Topics of focus:
Budget 2023. Key indicators
International financial assistance: announcement of 18 billion in funding from the European Commission
Support for business during the war.
Read more: https://mediacenter.org.ua/news