Back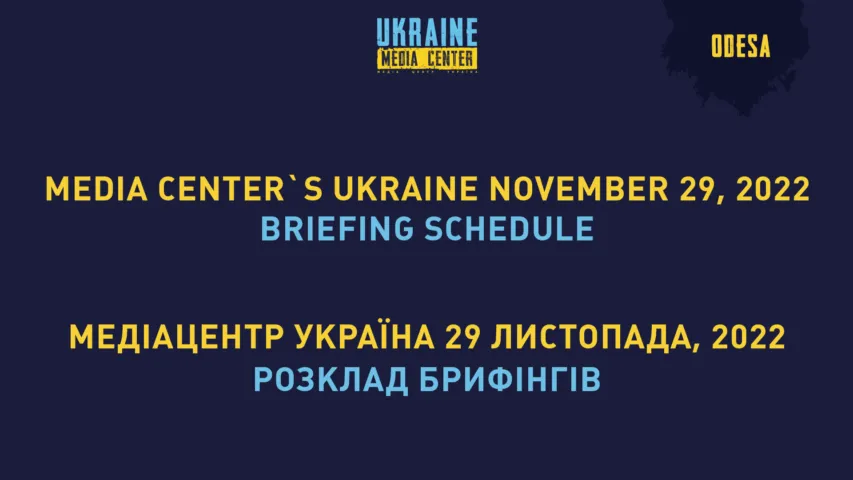 November 28, 2022, 12:20
SCHEDULE OF MEDIA CENTER UKRAINE — ODESA EVENTS (ODESA, 1/20 MARAZLIIVSKA STREET. CHORNOMORETS STADIUM (CENTRAL ENTRANCE), ON NOVEMBER 29
10:00 AM — Yulia Shvaba; Julia Riznyk; Tatyana Sherishorina; Tetyana Tolkachova; Iryna Katolichenko; Tetyana Tukmachova; Inna Filimonova; Inna Sukhorukova; Alyona Sytnyk; Alesya Aulina; Tatyana Lanova (in person)
Wives and mothers of military sailors whose fate is unknown;
Topics of focus:
Relatives of the crews of the boats "Slovyansk" and "Stanislav" want to know the fate of their relatives and friends. Russian aggressors fired at the boats in the spring of 2022 and sank them. Military sailors could die, be captured or go missing
Why is this interesting?
In the spring of 2022, the military boats "Slovyansk" (of the "island" type) and "Stanislav" (of the "Centaur-LK" type) were sunk in the Black Sea during the battle. For the ninth month, relatives are trying to find and return the boat crews – military sailors disappeared or died in the Black Sea.
For the ninth month, the Kremlin, in violation of the Geneva Convention, keeps and does not confirm the sailors who are prisoners of war. We do not receive information, documents and explanations, say relatives. They demand that the Ukrainian government make greater efforts to find and return Ukrainian defenders.
11:00 AM — Geno Tebidze, founder and chairman of the Alilo 2015 charitable foundation (Batumi, Georgia), co-founder of the Ukrainian-Georgian social project "Children Want Peace" and the Center for Humanitarian Aid to Ukrainians in Batumi (in person);
Lilia Grychulevych, founder of the UkrainianGeorgian social project "Children want peace", representative of the Women's Council of Georgia in Odesa, representative of the NGO "Black Sea Women's Club" (Odesa) (in person);
12:00 PM — Olena Rotari, volunteer of the "Let's be happy" (Khay shchastyt) headquarters (in person);

Kateryna Madens, head of the Odesa branch of NGO "Avtomaidan" (in person);
Mykyta Karpenko, head of the NGO "National Health and Safety Council", head of the project #Aid4Ukraine (in person)


Topics of focus:
How do Odesa volunteers help displaced people in Odesa and what help do they collect for the military
01:00 PM — Veronika Boyko, head of the social direction of the PR department of YouControl, an IT company that creates solutions based on open data (online)
Topic of focus:
What business in the south of Ukraine is connected with the aggressor country? Search for Russian business in Ukrainian and foreign registers. Briefing and workshop.
From 10 a.m. to 6 p.m., "Media Center Ukraine — Odesa" operates in co-working mode – we have high quality Wi-Fi coverage and a comfortable space. If possible, please notify the media center administrator via email, by phone or messengers about your visit. In order to use the stadium parking for free, we kindly ask you to inform the day before your arrival.
For more information +380500895830
Email: [email protected]
Find us here:
Website: https://mediacenter.org.ua/
Twitter: https://twitter.com/CenterUkraine
Facebook: https://www.facebook.com/UkraineMediaCenter
YouTube: https://www.youtube.com/@UkraineMediaCenterOdesa
Telegram: https://t.me/mcu_odesa
Read more: https://mediacenter.org.ua/news