Back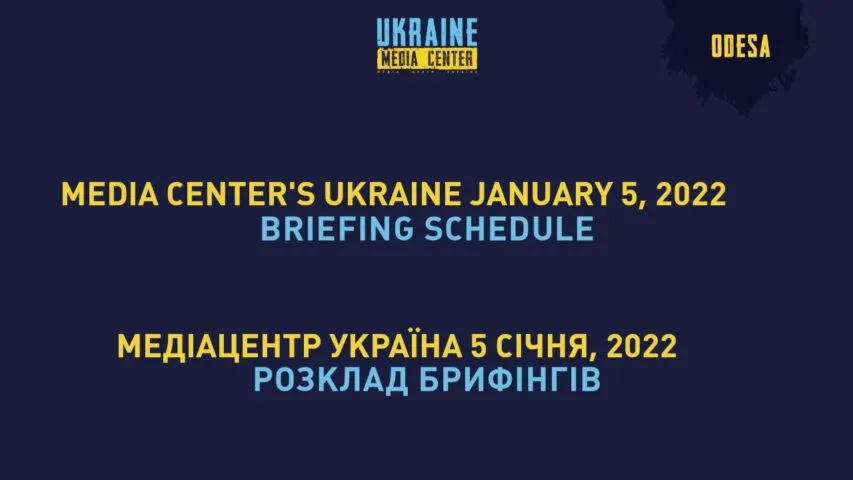 January 4, 2023, 16:30
SCHEDULE OF MEDIA CENTER UKRAINE — ODESA EVENTS (ODESA, 1/20 MARAZLIIVSKA STREET. CHORNOMORETS STADIUM (CENTRAL ENTRANCE), ON JANUARY 5
10:30 AM – Karsten Fuhrken, director of The Merch Republic (in person)
Topics of focus:
Evacuation of people from the war zone in southern Ukraine;
Children's holiday for IDPs in Odesa;
How do two camps for Ukrainian refugees in Romania work;
Tags: war, international aid, evacuation, Romania, IDPs
12:00 PM – Nataliya Utyupina, head of the Children care service of Odesa regional military administration (in person)
Topics of focus:
protection of children's rights in Odesa region;
implementation of state policy in the region;
family forms of upbringing of orphans and children deprived of parental care
Tags: war, protection of children's rights, family-type orphanages, foster families
01:00 PM – Serhii Bratchuk, spokesman of the Head of the Odesa Military Administration (in person)
Topics of focus:
The current security and humanitarian situation in the region
Tags: Odesa, war, shelter for people, help to neighboring regions
From 10:00 AM to 6:00 PM., Media Center Ukraine — Odesa operates in co-working mode – we have high quality Wi-Fi coverage and a comfortable space. If possible, please notify the media center administrator via email, by phone or messengers about your visit. In order to use the stadium parking for free, we kindly ask you to inform the day before your arrival.
For more information +380500895830
Email: [email protected]
Find us here:
Website: https://mediacenter.org.ua/
Twitter: https://twitter.com/CenterUkraine
Facebook: https://www.facebook.com/UkraineMediaCenter
YouTube: https://www.youtube.com/@UkraineMediaCenterOdesa
Telegram: https://t.me/mcu_odesa
To subscribe to the daily monitoring of news from the south of Ukraine, follow the link.
Read more: https://mediacenter.org.ua/news