Back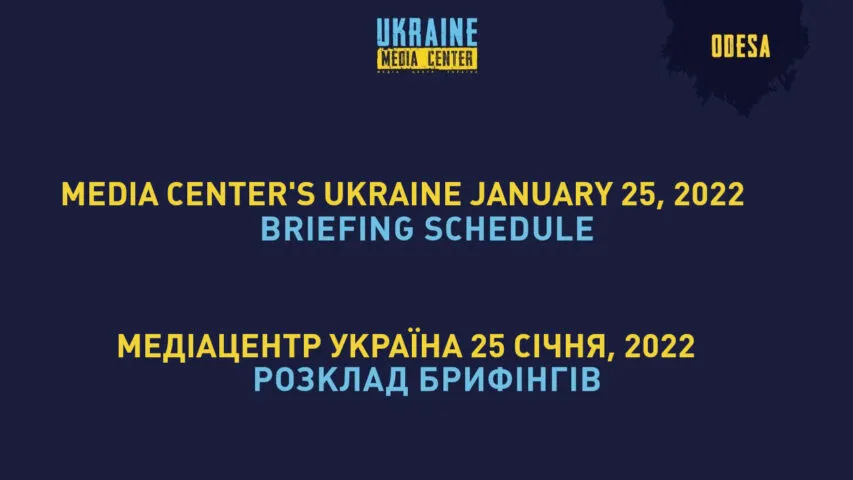 January 24, 2023, 17:30
SCHEDULE OF MEDIA CENTER UKRAINE — ODESA EVENTS (ODESA, 1/20 MARAZLIIVSKA STREET. CHORNOMORETS STADIUM (CENTRAL ENTRANCE), ON JANUARY 25
02:00 PM – Oleksandr Yurko, Head of the volunteer building battalion "Dobrobat" (in person);
Larysa Bortovyk, Head of the Kherson branch building battalion "Dobrobat" (in person);
Andriy Razin, Head of Zaporizhzhia branch building battalion "Dobrobat" (in person);
Yuriy Osipov, Head of the Mykolaiv branch building battalion "Dobrobat" (in person);
Topics of focus:
Urgent restoration of housing and social infrastructure facilities in the de-occupied territories of the southern regions of Ukraine
04:00 PM – Jaroslav Naď, the Minister of Defense of Slovakia (online)
Topics of focus:
Military and technical cooperation between Slovakia and Ukraine in 2022 and perspectives for 2023;
Perspectives of inviting Ukrainian military specialists to work at Slovak enterprises;
Repair of Ukrainian military equipment in Slovakia;
Relations between Slovakia and Russia;
Transfer of Slovak aircraft, air defense systems and other weapons
Development of the Slovak military-industrial complex
We kindly ask you to fill in the form: https://forms.gle/DEmGmqfhJzDgxm547
To subscribe to the daily monitoring of news from the south of Ukraine, follow the link.
From 10:00 AM to 6:00 PM., Media Center Ukraine — Odesa operates in co-working mode – we have high quality Wi-Fi coverage and a comfortable space. If possible, please notify the media center administrator via email, by phone or messengers about your visit. In order to use the stadium parking for free, we kindly ask you to inform the day before your arrival.
For more information +380500895830
Email: [email protected]
Find us here:
Website: https://mediacenter.org.ua/
Twitter: https://twitter.com/CenterUkraine
Facebook: https://www.facebook.com/UkraineMediaCenter
YouTube: https://www.youtube.com/@UkraineMediaCenterOdesa
Telegram: https://t.me/mcu_odesa
Read more: https://mediacenter.org.ua/news