Back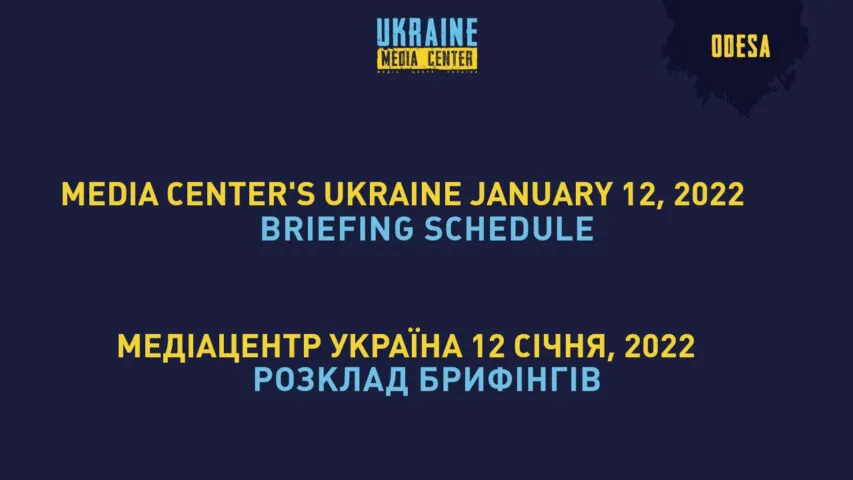 January 11, 2023, 16:30
SCHEDULE OF MEDIA CENTER UKRAINE — ODESA EVENTS (ODESA, 1/20 MARAZLIIVSKA STREET. CHORNOMORETS STADIUM (CENTRAL ENTRANCE), ON JANUARY 12
11:00 AM – Oleksiy Chornyi, head of the Coordination humanitarian headquarters of Odesa region (in person)
Topics of focus:
Annual report of the Humanitarian headquarters;
Tasks of the humanitarian headquarters for the next year.
Tags: war, international aid, Odesa, Kherson, Mykolaiv, IDPs
01:00 PM – Hermine Poschmann, head of the German NGO "Mission Lifeline" (in person); Oleh Mykhaylyk, Chairman of charity foundation Plich-o-Plich (Side by Side) Charitable Foundation (in person); Amrei Drechsler, CEO Mission Lifeline (in person)
Topics of focus:
How does Center for Temporary Accommodation of IDP's operate in Odesa;
How the organization helps elderly people with disabilities;
How the organization helps Ukrainian refugees in Europe
02:00 PM – Serhii Tetyukhin, Deputy Mayor of Odessa (in person)
Topics of focus:
Humanitarian aid to the city since the full-scale aggression;
What countries Odesa cooperates and cooperated before;
Perspectives of the international cooperation in future
To subscribe to the daily monitoring of news from the south of Ukraine, follow the link.
From 10:00 AM to 6:00 PM., Media Center Ukraine — Odesa operates in co-working mode – we have high quality Wi-Fi coverage and a comfortable space. If possible, please notify the media center administrator via email, by phone or messengers about your visit. In order to use the stadium parking for free, we kindly ask you to inform the day before your arrival.
For more information +380500895830
Email: [email protected]
Find us here:
Website: https://mediacenter.org.ua/
Twitter: https://twitter.com/CenterUkraine
Facebook: https://www.facebook.com/UkraineMediaCenter
YouTube: https://www.youtube.com/@UkraineMediaCenterOdesa
Telegram: https://t.me/mcu_odesa
Read more: https://mediacenter.org.ua/news