Back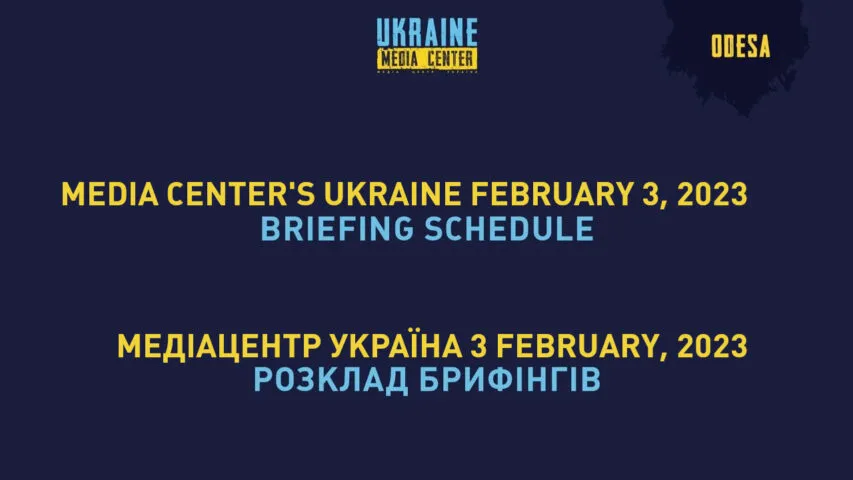 February 2, 2023, 17:30
SCHEDULE OF MEDIA CENTER UKRAINE — ODESA EVENTS (ODESA, 1/20 MARAZLIIVSKA STREET. CHORNOMORETS STADIUM (CENTRAL ENTRANCE), ON FEBRUARY 3
11:00 AM – Valeria Abdal, co-founder of the "Dity Heroiv" (Children of Heroes) charitable foundation (in person)
Marta Bilyk, psychotherapist, psychologist of the "Dity Heroiv" (Children of Heroes) charitable foundation (online)
Topics of focus:
Month of work report;
New directions of the fund's work;
New partners;
For info: "Dity Heroiv" (Children of Heroes) Foundation takes care of the children of dead Ukrainian civilians and soldiers. The foundation's mission is to help people survive the loss, provide psychological, legal, medical, humanitarian and material support. The organization has been operating since March 2022, and as of December 1, 2022, it cared for 1,400 children.
12:00 PM – Denys Lavrenko, head of the southern recruitment center of the National Guard of Ukraine (in person);
Roman Mulyava, head of the department of social and humanitarian support of the southern regional department of the State Border Service of Ukraine (in person);
Oleh Yakubets, commander of the third platoon of the first company of the police battalion "Tsunami" (in person);
Topics of focus:
Start of the national recruiting campaign "Gvardia Nastupu" (Guards of Offensive) of the Ministry of Internal Affairs;
Who can join the ranks of the units of the Ministry of Internal Affairs;
Legal features of voluntary joining the National Guard, the National Police and the State Border Service;
01:00 PM – Inga Kordynovska, lawyer and managing partner of "ID Partners" law firm (in person);
Beata Kurkul, artist (online);
Alisa Zhabinets, artist, designer (online);
Topics of focus:
Art looting during the war: why you can't steal someone else's work and make money from it;
How unscrupulous dealers make money on Ukrainian artists;
Legal consequences of copyright infringement;
To subscribe to the daily monitoring of news from the south of Ukraine, follow the link.
From 10:00 AM to 6:00 PM., Media Center Ukraine — Odesa operates in co-working mode – we have high quality Wi-Fi coverage and a comfortable space. If possible, please notify the media center administrator via email, by phone or messengers about your visit. In order to use the stadium parking for free, we kindly ask you to inform the day before your arrival.
For more information +380500895830
Email: [email protected]
Find us here:
Website: https://mediacenter.org.ua/
Twitter: https://twitter.com/CenterUkraine
Facebook: https://www.facebook.com/UkraineMediaCenter
YouTube: https://www.youtube.com/@UkraineMediaCenterOdesa
Telegram: https://t.me/mcu_odesa
Read more: https://mediacenter.org.ua/news