Back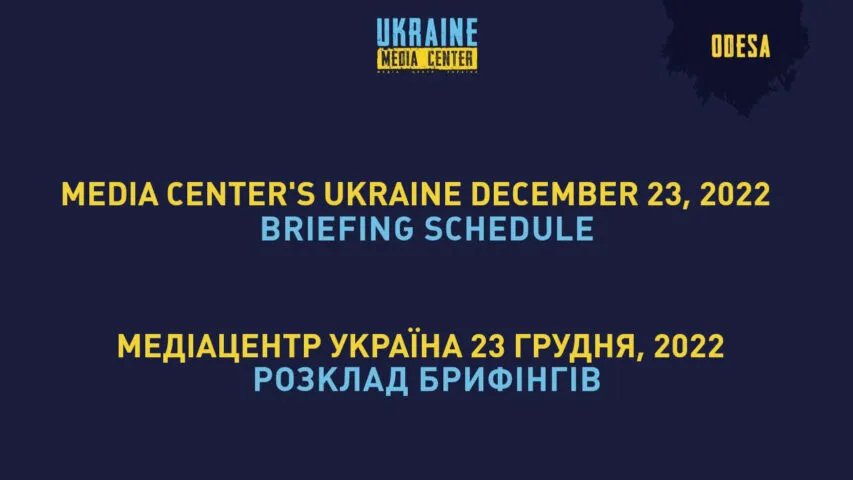 December 22, 2022, 16:30
SCHEDULE OF MEDIA CENTER UKRAINE — ODESA EVENTS (ODESA, 1/20 MARAZLIIVSKA STREET. CHORNOMORETS STADIUM (CENTRAL ENTRANCE), ON DECEMBER 23
11:00 AM – Myroslava Hanyushkina, director of the ArtPole Agency (in person);
Olga Mykhailiuk, author of the idea of the project "Nobody is an Island" and its visualization (in person);
The topic of the briefing: "No man is an island" – an audiovisual story about the south of Ukraine in Odesa"
Why is this interesting?
On December 25, Odesa will host a concert-performance of the independent artistic initiative ArtPole "No man is an island", dedicated to the south of Ukraine. Mariupol musician Suren Voskonyan will perform live on clarinet and duduk, and video artist Olga Mykhailiuk will show her video story.
The idea of the project "Nobody is an Island" was born in December, in Warsaw, when musicians Tomasz Sikora, Rafael Roginski, Oleksiy Vorsoba and Benjamin Cope recorded an improvisational greeting to Odesa – the composition "Nobody is an Island". It will also be possible to hear it.
More detailed information on the event page on Facebook.
12:00 – Yevgen Dvorsky, head of the community organization "Cultural Education" and the leader of the cultural initiative "Kinomisiya" (Cinemamission)
Topic of the briefing: Documentary film festival about human rights in Odesa. "State of emergency/Traveling Docudays UA in Odesa"
Why is this interesting?
Docudays UA travelling international documentary film festival about human rights! The festival will be held from December 23 to 30 on the territory of Odesa. The theme of this year's Mandrivny Docudays UA is "State of Emergency".
In Odesa, Mandrivny (Travelling) will be held from December 23 to 25 in Odesa and from December 27 to 30 in the Savran community of Odesa oblast. The regional coordinator of the festival is the public organization "Kultprosvit"(Cultural education).
The program also plans to hold several human rights events that will take place on December 24 and 25. The first event will be dedicated to getting to know the basics of human rights and freedoms and discussing issues of children's rights in accordance with the Convention on the Rights of the Child. The theme of the second event is "Self-organization in the community",
You can find out more about the events on the festival's official website and on its Facebook page.
13:00 – Oleksandr Lonchak, Director of the Department of Education and Science of the Odesa Oblast Administration
Topics of focus:
Results of the 1st semester of the 2022-2023 academic year;
Organization of the educational process in Odesa region during blackouts;
Innovations for graduates in 2023
For more information +380500895830
Email: [email protected]
Find us here:
Website: https://mediacenter.org.ua/
Twitter: https://twitter.com/CenterUkraine
Facebook: https://www.facebook.com/UkraineMediaCenter
YouTube: https://www.youtube.com/@UkraineMediaCenterOdesa
Telegram: https://t.me/mcu_odesa
Read more: https://mediacenter.org.ua/news