Back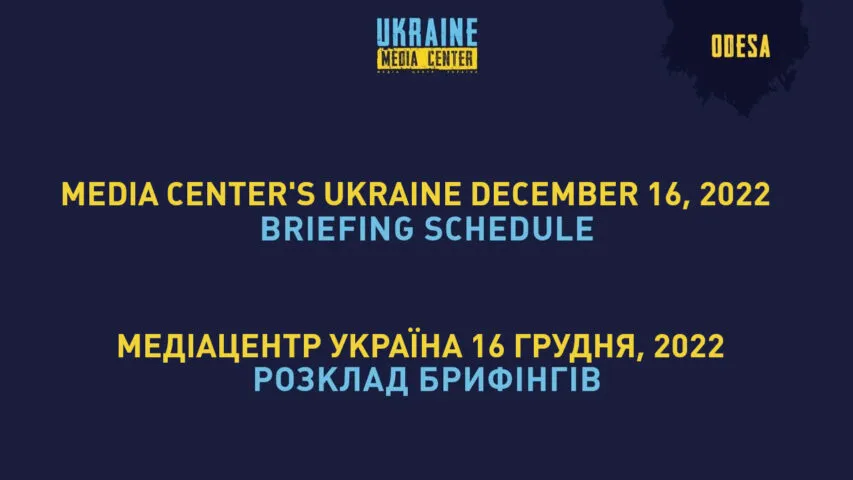 December 15, 2022, 16:00
SCHEDULE OF MEDIA CENTER UKRAINE — ODESA EVENTS (ODESA, 1/20 MARAZLIIVSKA STREET. CHORNOMORETS STADIUM (CENTRAL ENTRANCE), ON DECEMBER 16
02:00 PM – Dmytro Grigoriev, general director of DTEK Odesa Grids (in person)
Topic: "Blackout in Odesa and stabilization of electricity supply in the region"
Topics of focus:
How not to succumb to hostile misinformation about electricity?
Algorithm of actions in case of power outage and lack of mobile communication;
What is the difference between emergency and stabilization shutdowns?
What is critical infrastructure, and why do some buildings have electricity almost all the time?
Terms of energy infrastructure restoration
WARNING! Pre-registration to attend the briefing is required!
https://forms.gle/tkk7QjEBgX4Fn1DU7
ATTENTION! The briefing of DTEK Grids is postponed due to internal reasons of the energetical company.
We hope to see DTEK Grids at the Media Center soon!
03:00 PM – Nataliya Mostovskikh, director of the Department of Urban Economy of the Odessa City Council (in person); – speaker change

Anatoly Kozlov, deputy director of the Department of Urban Economy of the Odesa City Council (in person);
Hanna Pozdniakova, director of the utility company "Heat Supply of the City of Odesa" (in person);
Topics on focus:
How municipal services work during war
Challenges of the city's life support systems during winter;
International aid to Odesa
How blackouts influenced the municipal services
03:40 PM – AHF Ukraine (charitable fund "Anti-AIDS Foundation) will conduct free testing for HIV, hepatitis B, hepatitis C and syphilis.
Testing with the help of rapid tests allows you to get a result within 15 minutes.
In addition, you will be able to get information about the free services of Test & Treat Clinic and Wellness Center Odesa in Odesa and get free condoms.
For more information +380500895830
Email: [email protected]
Find us here:
Website: https://mediacenter.org.ua/
Twitter: https://twitter.com/CenterUkraine
Facebook: https://www.facebook.com/UkraineMediaCenter
YouTube: https://www.youtube.com/@UkraineMediaCenterOdesa
Telegram: https://t.me/mcu_odesa
Read more: https://mediacenter.org.ua/news