Back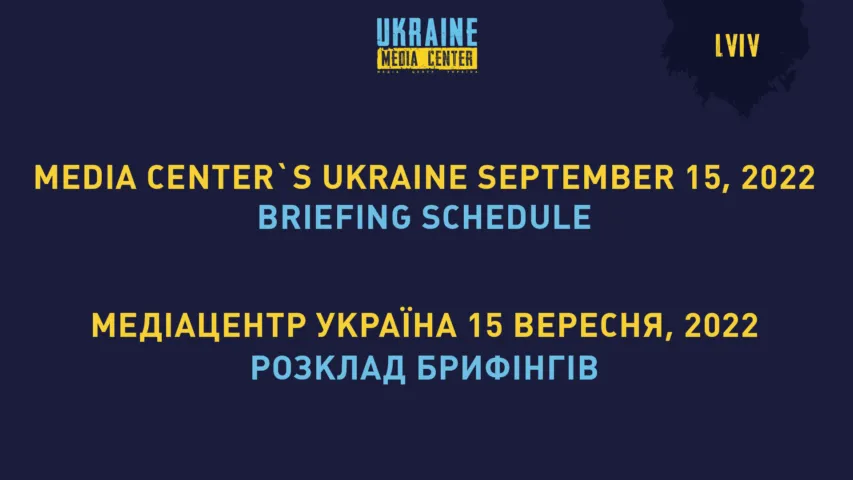 September 14, 2022, 18:24
SCHEDULE OF MEDIA CENTER UKRAINE EVENTS (LVIV, 32 RYNOK SQUARE) FOR SEPTEMBER 15
12:00 PM — Feodosia Kolesnyk, Head of "Feodosia Kolesnyk European Education Center" NGO
Svitlana Vavrin, Senior Lecturer at the Department of Ukrainian and Foreign Languages of the National University of Veterinary Medicine and Biotechnology of Lviv
Olena Rybalova, architect (Kharkiv), a retiree who attends the language club
(In person)
Topics of focus:
– Efficiency and the need for free Ukrainian language courses
– Presentation of a textbook for the Ukrainians switching to their native language
1:00 PM — Halyna Bordun, Advisor to the Head of Lviv Oblast Military Administration,
Roman Andres, Acting Director of Social Welfare Department,
Orest Suvalo, a member of the Medical and Psychosocial Support working group, Coordinator of Mental Health for Ukraine Project
(In person)
Topics of focus:
– How the districts of Lviv oblast help forced refugees: the challenges of autumn
– The first results of the advisory and coordination centers for IDPs in all districts of Lviv region
– What services can IDPs receive free of charge in advisory and coordination centers.
1:30 PM — Iryna Maruniak, Deputy Head of Lviv Mayor for Housing and Communal Utilities Issues
Lyubomyr Zubach, Deputy Head of Lviv Mayor for City Development
(In person)
Topics of focus:
– How is Lviv preparing for winter?
– How will the refugees living in modular towns in Lviv spend the winter?
The Media Center will function as a co-working space from 10:00 AM to 6:00 PM.
Contact phone:
+38 067 652 91 97
Read more: https://mediacenter.org.ua/news