Back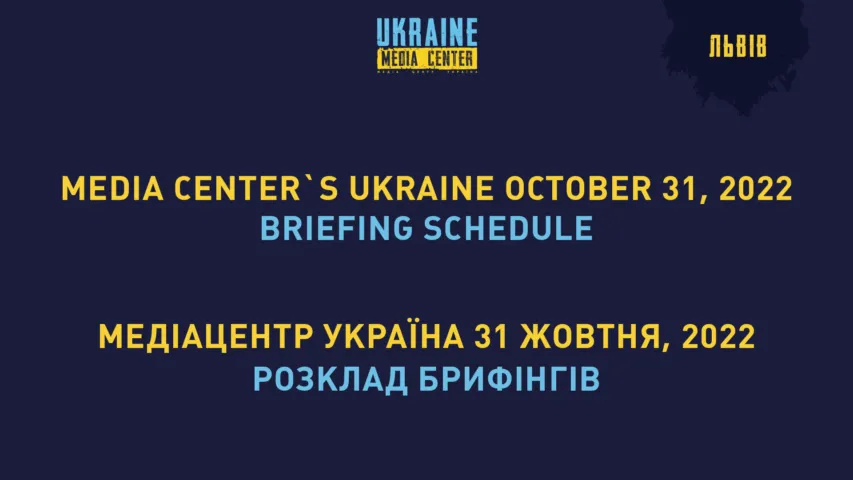 October 30, 2022, 14:33
SCHEDULE OF MEDIA CENTER UKRAINE EVENTS (LVIV, 32 RYNOK SQUARE) FOR OCTOBER 31
12:00 PM — Tetiana Berezhna, Deputy Minister of Economy of Ukraine (online)
Topics of focus:
The "Army of Restoration" project: how many people are planned to attract and how it will work.
Why is this interesting?
The Ministry of Economy plans to launch the "Army of Restoration" project, in which unemployed Ukrainians will be involved in constructive social works. In particular, clearing the building debris, strengthening of dams, arrangement of roadblocks and timber harvesting for the needs of military personnel. The job will be paid at the minimum wage level (starting from 6,700 hryvnias).
12:30 PM — Anton Nikulin, Head of Sports Office of the Lviv City Council
Andrii Zakaliuk, Head of Education Office of the Lviv City Council
(in person)
Why is this interesting?
The Sports Office jointly with the Education Office of Lviv city will establish the sports school leagues — sports competitions developed in accordance with the global and European experience of functioning of such events. The goal of such leagues is to increase the number of students who play sports on a regular basis and keep a healthy lifestyle.
1:00 PM — Sofia Lenartovych, author of the idea and text of the project
Dmytro Naumets, director, Project Coach
Bogdan Segin, Contemporary Music Development Chief Commercial Officer of the Lviv National Philharmonic
(in person)
Why is this interesting?
As part of the concert series "Muses Are Not Silent", the electroacoustic performance "Voices" based on Sofia Lenartovych's poetry will be premiered. Five artists joined in a theatrical experiment to bring poetry to life with the help of electroacoustic music and archaic songs, movement and plasticity. The name of the event goes through the voices of art, which create a complete picture of the action here and now.
From 10:00 AM to 6:00 PM, the Media Center functions as a co-working space.
For more information:
+38 067 652 91 97
Read more: https://mediacenter.org.ua/news