Back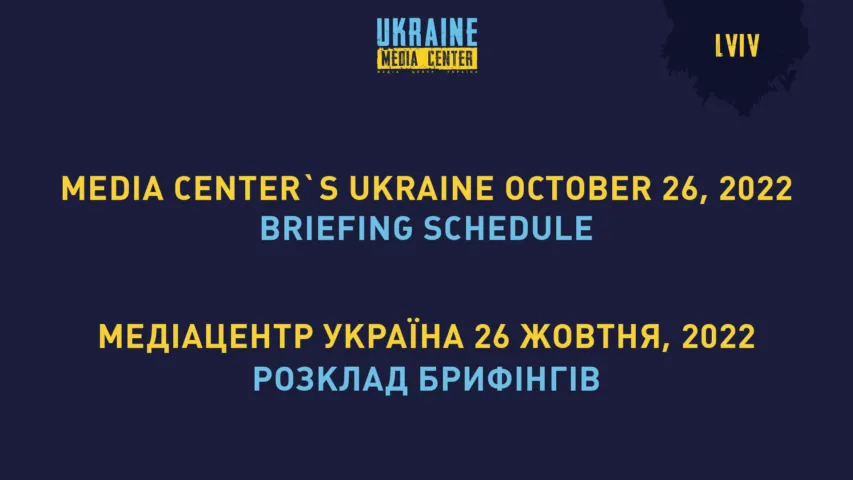 October 25, 2022, 18:46
SCHEDULE OF MEDIA CENTER UKRAINE EVENTS (LVIV, 32 RYNOK SQUARE) FOR OCTOBER 26
10:00 AM — Yevheniya Kravchuk, People's Deputy, Deputy Head of the Committee on Humanitarian and Information Policy (online)
Topics of issue:
Results of the Crimea Platform in Zagreb
Why is this interesting?
On October 25, the First Parliamentary Summit of the Crimea Platform was held in Zagreb (Croatia). Delegations from more than 50 countries and institutions were invited to participate.
12:00 PM — Oleksandr Kharchenko, Director at the Energy Industry Research Center (online)
Topics of issue:
Ukraine's power system after russian attacks: forecasts
Efficacy of savings, rotating and scheduled power cuts
Alternative solutions to the energy crisis
12:30 PM — Vitaliy Koval, Head of Rivne Oblast Military Administration (online)
Topics of issue:
General situation in the region: security and energy
Consequences of russian attacks at the Rivne region
Situation on the border with belarus
From 10:00 AM to 6:00 PM, the Media Center functions as a co-working space.
For more information:
+38 067 652 91 97
Read more: https://mediacenter.org.ua/news