Back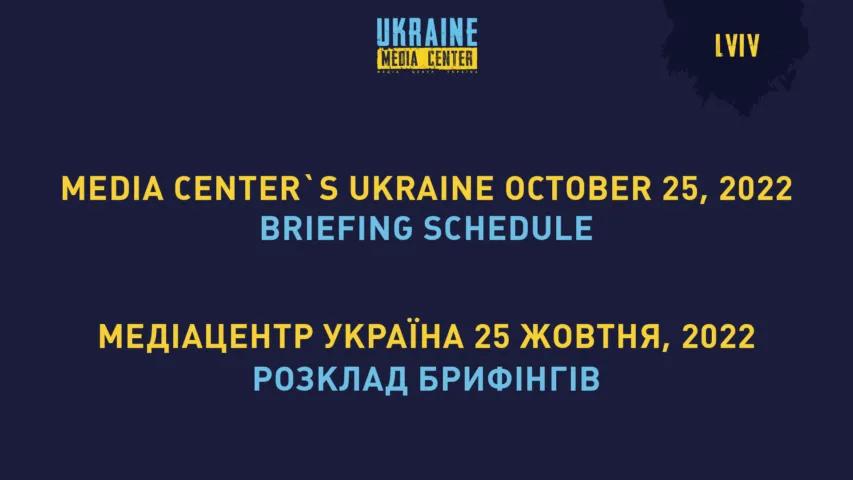 October 24, 2022, 19:26
SCHEDULE OF MEDIA CENTER UKRAINE EVENTS (LVIV, 32 RYNOK SQUARE) FOR OCTOBER 25
11:00 AM — Pavlo Grod, President of Ukrainian World Congress (online)
Topics of focus:
– Activities of Ukrainian World Congress since the beginning of russia's full-scale invasion: advocacy and cooperation with the parliaments of European countries regarding the decisions on the confiscation of russian property, strengthening of the international criminal court by creating a special tribunal, recognition of russia as a state sponsor of terrorism.
– Ukrainian World Congress' assistance to the Ukrainian Armed Forces
– Participation of Ukrainian World Congress in the Crimea Platform in Zagreb
11:30 AM — Dmytro Solomchuk, Member of Verkhovna Rada and a member of Verkhovna Rada's Agrarian and Land Policy Committee (online)
Topics of focus:
– Harvest 2022: how much was collected and plans for export
– Results of the operation of "the grain corridor"
For reference: according to the Infrastructure Ministry of Ukraine, in the Bosphorus, russia is artificially delaying the inspection of vessels carrying grain from Ukrainian ports, which led to a queue of 170 ships.
12:00 PM — Hryhoriy Plachkov, the former Head of the State Nuclear Regulatory Inspectorate (2017-2021) (online)
Topics of focus:
– The security situation at Zaporizhia NPP
– Ukraine's invitation of the IAEA mission to Zaporizhia NPP: expectations
– russia's nuclear blackmail
For reference: Minister of Foreign Affairs of Ukraine Dmytro Kuleba officially invited the International Atomic Energy Agency to send a mission to Ukraine to refute moscow's fabrications about the alleged development of a "dirty bomb".
From 10:00 AM to 6:00 PM, Media Center functions as a co-working space.
For more information:
+38 067 652 91 97
Read more: https://mediacenter.org.ua/news