Back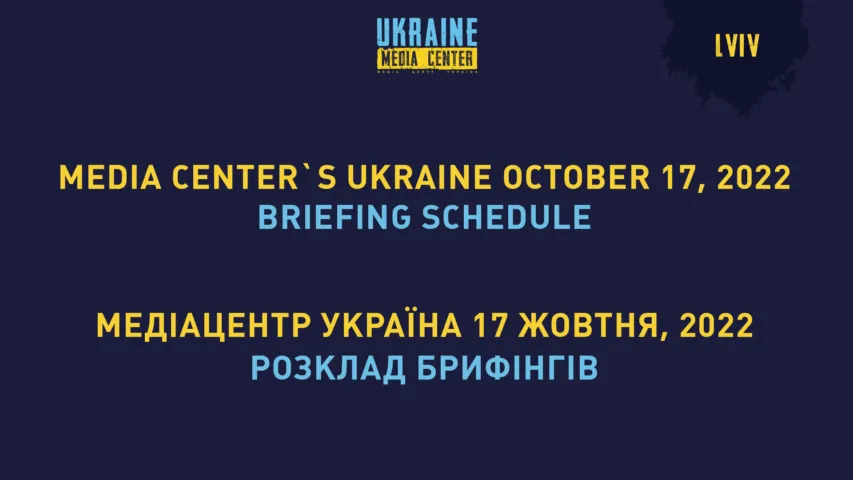 October 16, 2022, 18:21
SCHEDULE OF MEDIA CENTER UKRAINE EVENTS (LVIV, 32 RYNOK SQUARE) FOR OCTOBER 17
11:00 AM — Iurii Ihnat, Speaker of the Air Forces Command of the Armed Forces of Ukraine (online)
Topics of issue:
– Consequences of russian missile attacks on Ukraine
– How the Air Forces counteract the Iranian UAVs
11:30 AM — Oleksandr Merezhko, Head of the Verkhovna Rada Committee on Foreign Policy and Interparliamentary Cooperation (online)
Topics of issue:
– The petition to cancel visa-free travel with Belarus gained the required number of votes: further actions
– Outcomes of PACE and UN meetings: how it will affect the russian federation
Why is this interesting?
During the General Assembly meeting, the UN condemned the rf's attempts to annex the Ukrainian territories.
The Parliamentary Assembly of the Council of Europe has supported a resolution holding that the russian regime is terrorist.
1:00 PM — Oleksandr Kharchenko, Director at the Energy Industry Research Center (online)
Topics of issue:
– Suspension of fuel transportation by Nord Stream and Druzhba oil pipeline: how russian blackmail will turn out
– Ukraine's energy security: how the country should respond to russia's attacks on energy infrastructure and how Ukraine will get through the winter.
From 10:00 AM to 6:00 PM, Media Center functions as a co-working space.
For more information:
+38 067 652 91 97
Read more: https://mediacenter.org.ua/news