Back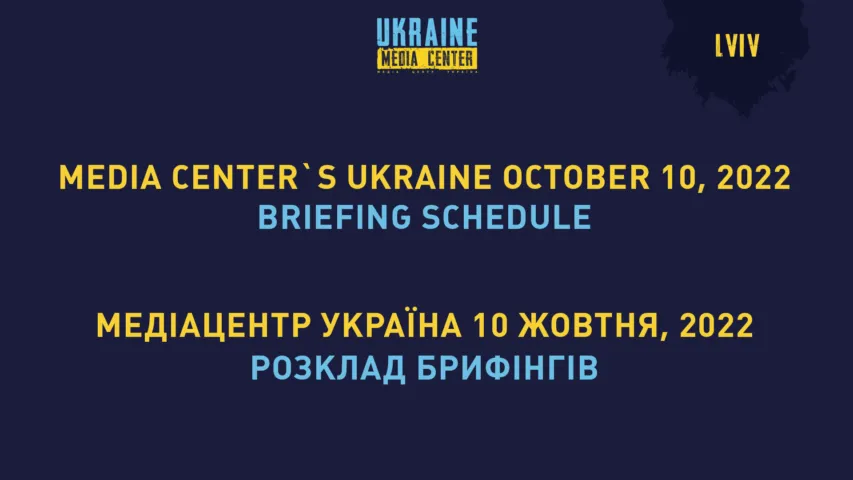 October 9, 2022, 16:50
SCHEDULE OF MEDIA CENTER UKRAINE EVENTS (LVIV, 32 RYNOK SQUARE) FOR OCTOBER 10
11:30 AM — Dmytro Makohon, design engineer (online)
Topics of issue:
• Damage to the Kerch Strait Bridge: how serious it is and how much time/ resources are required to restore the crossing
• Versions of explosion causes.
Why is this interesting?
On October 8, at about 6:00 AM, an explosion occurred at the crossing illegally built by russians, which connected the occupied Crimea and rf. The fuel-carrying train caught fire. As a result, several sections of the automobile part of the bridge towards Kerch fell into the sea. According to rf's version, the explosion occurred due to destruction of a truck filled with explosives that was driving over the bridge.
The bridge across the Kerch Strait is one of the main channels to supply military equipment and weapons to russian military in Crimea and to the occupied part of the Southern regions of Ukraine.
12:30 PM — Oleksandr Starukh, Head of Zaporizhzhia Regional Military Administration (online)
Topics of issue:
• Operational situation in Zaporizhzhia city and Zaporizhzhia region
• Consequences of russian shelling to Zaporizhzhia
• ZNPP situation
Recall that on October 9, invaders launched 16 rockets to civilian infrastructure and residential areas of Zaporizhzhia. As of 3:00 PM, at least 13 dead civilians are reported.
1:00 PM — Franak Viačorka, Adviser to Svetlana Tikhanouskaya, belarusian opposition leader (online)
Topics of issue:
• Belarusians' response to russian annexation of Ukrainian territories
• Mobilization in rf: consequences for belarus
• Prospects for drawing belarus into the war: how realistic it is.
Why is this interesting?
According to the Chief Directorate of Intelligence of the Ministry of Defense of Ukraine, belarus has concentrated 6 battalions on the border with Ukraine. At the same time, the Ministry of Foreign Affairs of belarus served a diplomatic note to Ihor Kyzym, the Ukrainian Ambassador. They accuse Kyiv of allegedly preparing a strike on their country.
According to Ukrainian intelligence, russia keeps on trying to draw belarus into the war.
From 10:00 AM to 6:00 PM, Media Center functions as a co-working space.
For more information:
+38 067 652 91 97
Read more: https://mediacenter.org.ua/news