Back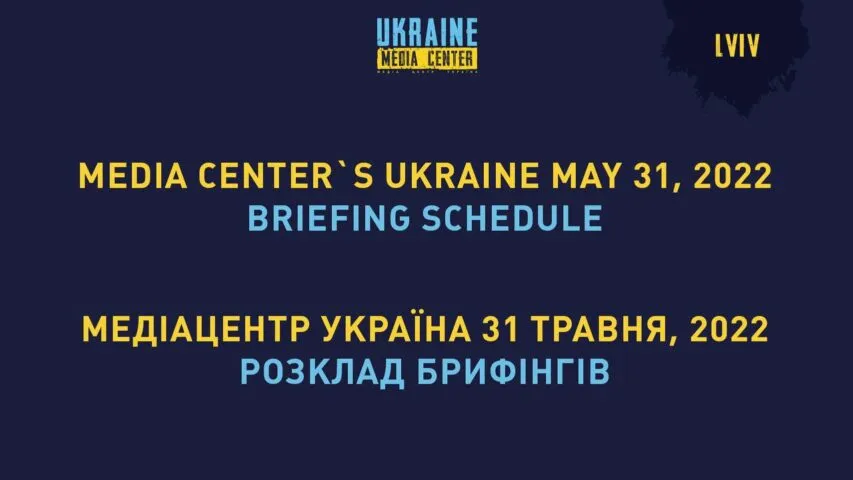 May 30, 2022, 17:45
SCHEDULE OF MEDIA CENTER UKRAINE EVENTS (LVIV, 32 RYNOK SQUARE) FOR MAY 31
12:00 PM — Andrii Zakrevskyi, Chair of the Management Board of the Association "Ukraine's Oil and Gas," Director General of Newfolk Oil and Gas Consultancy Center (online)
Current topics:
the fuel crisis — ways to address the challenge
the fuel market of the future — prospects of the development of production of minerals in Ukraine
12:30 PM – SPECIAL EVENT
Maksym Kozytskyy, Head of Lviv Oblast Military Administration
Oleksii Antypovych, Director of Rating Sociology Group
(all in person)
"Three Months of War. Lviv Oblast" — Briefing and presentation
Why this is interesting:
Results of a large-scale "Lviv Oblast during the War: Opinions of City Residents and Displaced Persons" survey will be presented at the event. It is the first opinion survey on this subject since the start of the russian invasion.
Issues covered by the survey:
the personal participation of citizens in Ukraine's defense effort
the demographic structure of internally displaced persons
the opinion of locals and displaced persons on actions taken by authorities during the war
1:00 PM — Ihor Kolykhaiev, Mayor of Kherson (online)
Current topics:
the occupation — how russians try to bring Kherson into submission
the resistance — how Ukrainians resist
the fighting at approaches to the city
the humanitarian situation in the city.
1:00 PM – SPECIAL EVENT
The grand opening of an exhibition dedicated to the unique "stone embroideries" made of stone and other historical heritage of Nova Kakhovka in Kherson Oblast, a city occupied by the russian army on the first day of the war, February 24, will take place in Rynok Square in Lviv on May 31.
At the grand opening event, students who study art conservation at Ivan Trush Lviv State College of Decorative and Applied Arts will recreate elements of the stone embroideries using their author's unique technology.
The grand opening of the exhibition will take place at 1:00 PM near the Amphitrite fountain
Please follow the link below to find out more about Tavria's Stone Embroideries https://ukrainer.net/nova-kahovka/
Read more: https://mediacenter.org.ua/news