Back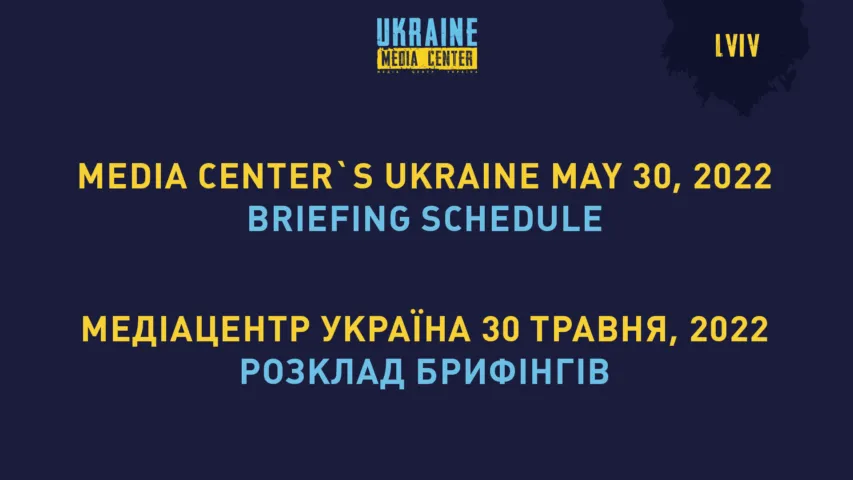 May 29, 2022, 16:03
SCHEDULE OF MEDIA CENTER UKRAINE EVENTS (LVIV, 32 RYNOK SQUARE) FOR MAY 30
11:30 AM—Daria Herasymchuk, Advisor and Commissioner of the President of Ukraine for Rights of Children and Children Rehabilitation (online)
Current topics:
How many children had been affected after the onset of russia's all-out invasion of Ukraine
Children protection and rehabilitation programs in Ukraine
International assistance for children affected by the war in Ukraine
Why this is interesting: June 1 is the International Children's Day
12:00 PM—Yuliia Zhovtiak, Director of the State Employment Center of Ukraine (online)
Current topics:
The war and unemployment: How many people are registered with employment centers
Job placement and the most demanded professions during the war
Forecasts of Ukraine's labor market.
2:30 PM—Nataliia Mykolska,
Co-Founder and CEO of DATTALION, Expert in Strategic Transformations (online);
Liliia Tymoshenko,
Co-Founder of DATTALION, General Administrative Director of the initiative (in person);
Svitlana Ivashchenko, witness from Mariupol (in person)
Why this is interesting:
The DATTALION (Ukrainian Data Battalion) is a women-founded and managed project supported by international volunteers fighting the information war.
During the press briefing, the initiative co-founders will talk about the impact of the russo-Ukrainian war on them and explain:
How the DATTALION uses photo and video footage from its database to inform leading international media about events in Ukraine
How the DATTALION database enables journalists and directors to discover the sequence of war crimes by russians
What the women's contribution is to Ukraine's resistance against russia's invasion.
The Media Center will function as a co-working space from 10:00 AM to 8:00 PM.
Contact phone:
+38 067 652 91 97
Read more: https://mediacenter.org.ua/news