Back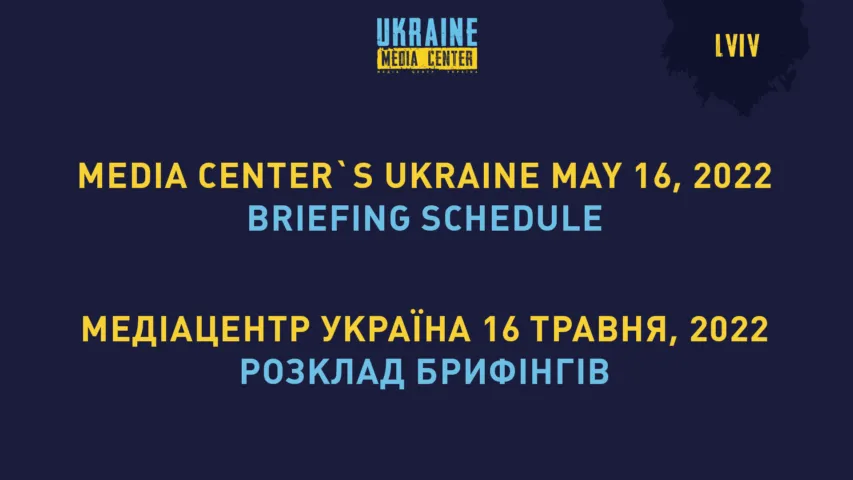 May 15, 2022, 17:12
SCHEDULE OF MEDIA CENTER UKRAINE EVENTS (LVIV, 32 RYNOK SQUARE) FOR MAY 16
12:30 PM – Oleksandr Starukh, Head of Zaporizhzhia Oblast Military Administration (online)
Current topics:
fighting in Zaporizhzhia oblast : the current situation
Zaporizhzhia as the main humanitarian hub for Mariupol residents
economic situation in the region
1:00 PM – Oleh Paska, Director of Education and Science Department of Lviv Oblast Military Administration; Larysa Seredyak, Director of the Lviv Regional Center for Educational Quality Assessment (in person)
Current topics:
Features of the Education of Lviv region in wartime;
Clarifications on the National Multi-Subject Test
Why this is important: The large number of migrants and teachers who have gone abroad poses additional risks to the entire education system. The issue of relocation of higher education institutions from the East of Ukraine to the West of the country is also acute.
3:00 PM – UKRAINE 24 AND MEDIA CENTER UKRAINE SPECIAL PROJECT
CULTURE THAT KILLS: HOW TO DEPRIVE russia OF ITS MOST EFFECTIVE WEAPON
Why do tanks always follow russian culture?
Is there a difference between Pushkin and Prilepin?
How to help the world dispel the myth of the «mysterious russian soul»?
Participants:
Oleksandr Knyha, Art Director at the Mykola Kulish Academic Music and Drama Theater of Kherson Oblast
Pavlo Hudimov, Curator, Art Manager of «Ya Gallery»
Lyana Mytsko, Director of the Lviv Municipal Art Center
Irena Karpa, writer, singer, journalist (online)
Vitaliy Kapranov, writer, public figure (online)
Moderator of the discussion: Nikita Mykhalov (Ukraine 24)
Duration: approximately one hour.
The event will be broadcast online.
The Media Center functions as a co-working space from 10 AM to 8 PM.
Contact phone number:
+38 067 652 91 97
Read more: https://mediacenter.org.ua/news