Back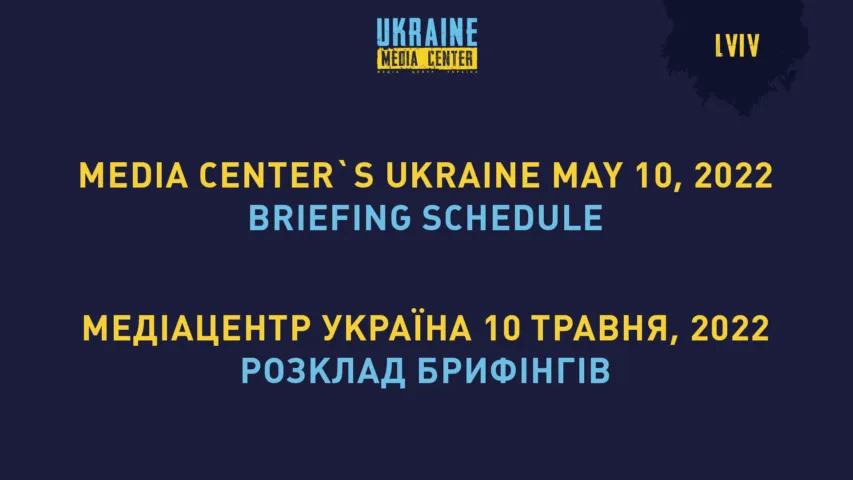 May 9, 2022, 20:54
SCHEDULE OF MEDIA CENTER UKRAINE EVENTS (LVIV, 32 RYNOK SQUARE) FOR  MAY 10
11:30 AM — Andriy Kobolyev, CEO of NJSC Naftogaz Ukraine (2014—2021)
Current topics:
•  Fuel crisis: ways of overcoming 
•  «Gas independence»: can Ukraine and Europe survive with russian gas 
•  Prospects of russian oil embargo 

12:00 PM — Special event
Topic: Refugees' pets with four paws will receive backpacks from Save Pets of Ukraine organization
Participants:
Kateryna Kovalyuk, Head of Headquarters of Save Pets of Ukraine initiative
Oleksandr Yazykom, Coordinator of a shelter and Director at АТС267 charity fund
Why this is important: Hundreds of Ukrainians had to leave their homes. A lot of these brave souls are fleeing with their pets. Those who are going to Lviv, Kyiv, Dnipro, Poltava, Kharkiv and Zaporizhzhia receive backpacks for their pets. The help is provided by an American organization Greater Goods Charities at the request of Save Pets of Ukraine all-Ukrainian initiative.
ATTENTION! CHANGE OF ADDRESS: 13A Subotivska Street (Shelter)
12:30 PM — Andrii Osadchuk, MP of Ukraine, Holos faction (personal attendance)
Current topics:
Right to bear arms: when will the law be adopted and what will it be like?
Criminal responsibility for revealing the positions of the Armed Forces of Ukraine
What kind of law enforcement does Ukraine need: summing up first months of war
Wartime legislation: what laws does Ukraine need?
Ukraine's victory: what will it be like?
Why this is important: Andrii Osadchuk is a member of the the Verkhovna Rada of Ukraine Committee on Law Enforcement
1:00 PM — Vadym Boichenko, Mariupol Mayor (online)
Current topics:
Evacuation from Mariupol
Battles for Azovstal Iron and Steelworks
War crimes committed by the russians
2:30 PM — Andriy Demchenko, Spokesperson of the State Border Guard Service of Ukraine (online)
Current topics:
The situation at Ukrainian-Belorussian and Ukrainian-russian borders
The situation near Transnistria
The migration situation on the western borders of the country
From 10:00 till 20:00 The Media Center functions as a co-working space.
Contact phone number:
+38 067 652 91 97
Read more: https://mediacenter.org.ua/news