Back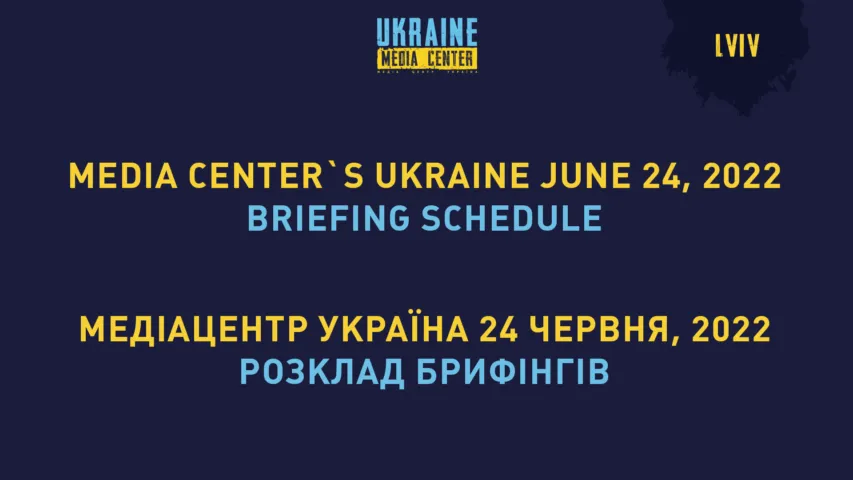 June 23, 2022, 19:08
SCHEDULE OF MEDIA CENTER UKRAINE EVENTS (LVIV, 32 RYNOK SQUARE) FOR JUNE 24
12:00 PM — Dmytro Orlov, Enerhodar City Mayor (online)
Current topics:
– Operational information on the situation in the city
– russians' abducting local residents, including employees of Zaporizhzhya NPP
– The situation at the NPP.
12:30 PM — Lesia Vasylenko, People's Deputy of Ukraine, Member of Ukraine's Delegation to PACE (online)
Current topics:
– Agenda of the PACE summer session
– Ukrainian issues on the agenda
– Debates on the humanitarian consequences of russia's aggression against Ukraine
– What results can be expected from this session
– The food crisis in the world and whether this issue is being discussed
3:00 PM — Inna Pidluska, Deputy Executive Director at International Renaissance Foundation (in person)
Oles Lisnychuk, Leading Analyst at Umberto analytical group (online)
Natalia Andrusevych, Chair of the Board at "Society and Environment" Resource & Analysis Center (in person)
Natalia Zaitseva-Chipak, Sociologist, CEO at Socioinform (in person)
A briefing entitled "War, environment and society"
Current topics:
– Are Ukrainians concerned about the environment during the war?
– How do the media outlets cover environmental issues after the start of russia's full-scale invasion?
– Why does russian aggression make the issue of environmental protection even more relevant?
The briefing will also feature a presentation of the research "Environment and War: Monitoring the Media and Ukrainians' Search Terms for the Presence of the Topic".
The Media Center will function as a co-working space from 10:00 AM to 6:00 PM.
Contact phone:
+38 067 652 91 97
Read more: https://mediacenter.org.ua/news