Back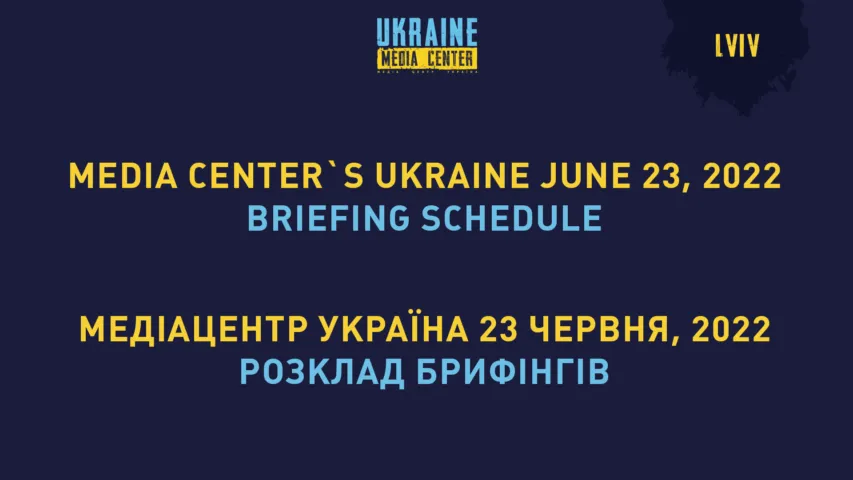 June 22, 2022, 18:43
UPDATED SCHEDULE OF MEDIA CENTER UKRAINE EVENTS (LVIV, 32 RYNOK SQUARE) FOR JUNE 23
11:00 AM — Vasyl Bodnar, Ukraine's Ambassador Extraordinary and Plenipotentiary to the Republic of Türkiye.
Current issues: 
– The statement about an arrangement to transport the Ukrainian grain from the seaports. What does it mean?
– Türkiye's regional leadership aspirations and Ukraine's interests.
Where and how do they coincide?
12:00 PM — Petro Beshta, Ambassador Extraordinary and Plenipotentiary of Ukraine to the Republic of Lithuania (online)
Current issues:
– Threats of the russian federation towards Lithuania: reasons and probable scenarios
– The Baltic States and russia: NATO's response to the escalation
– Lithuania's support for Ukraine on the verge of the EU summit
1:00 PM — SPECIAL EVENT!
Discussion panel "Standards of journalism in war"
Participants:
– Vitaly Portnikov, journalist, publicist
– Otar Dovzhenko, Head of the Independent Media Council
– Andriy Shestak, Director of the Ukrainian Catholic University School of Journalism and Communications
– Zoya Krasovska, media expert, analyst at Lviv Media Forum
(all in person)
Discussion issues:
– Journalistic standards in war: do they exist? What are they?
– A journalist at war and a propagandist: what is the difference
– Ukrainian and foreign journalists. What is the difference in the specifics of their work?
– Should we trust government information?
– Should we follow the russian media?
The discussion starts at 1:00 PM.
Duration — about an hour.
The audience is welcome to participate in the discussion. There will be an opportunity to ask questions to the participants of the discussion
Online broadcast at https://bit.ly/397gSCM
The Media Center will function as a co-working space from 10:00 AM to 6:00 PM.
Contact phone:
+38 067 652 91 97
Read more: https://mediacenter.org.ua/news