Back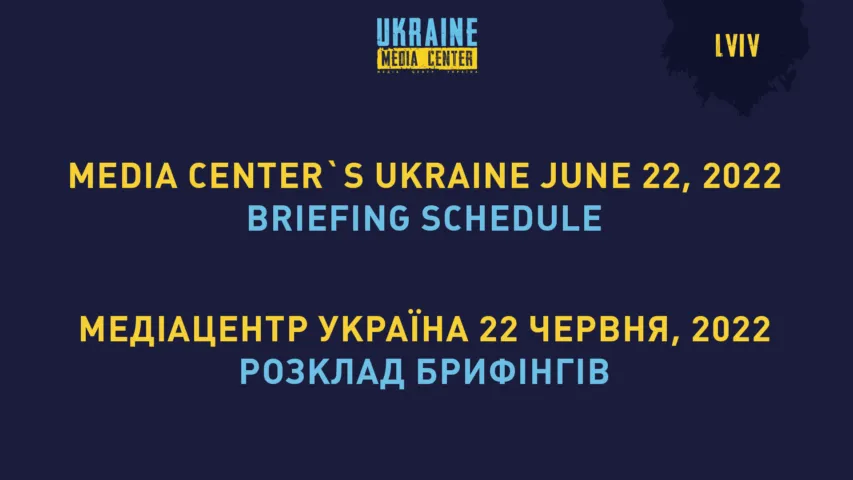 June 21, 2022, 18:15
SCHEDULE OF MEDIA CENTER UKRAINE EVENTS (LVIV, 32 RYNOK SQUARE) FOR JUNE 22
10:30 AM – Pavlo Klimkin, Diplomat, Minister of Foreign Affairs of Ukraine (2014–2019) (online)
Relevant topics:
Ukraine's EU candidacy prospects
Europe's requirements for Ukraine: Can they be met?
What is to be expected from the EU summit on June 23–24.
11:00 AM – Oleksandra Romantsova, Executive Director of the Center for Civil Liberties (online)
Ruslan Topolevskyi, NGO Center for Legal and Political Research "SIM" (in person)
Oleksandr Kadievskyi, Attorney, Coordinator of Kramatorsk Reception Office of the Ukrainian Helsinki Human Rights Union (in person)
Briefing on:
Tribunal for Putin, a joint initiative of civil-society human rights organizations and the Center for Civil Liberties.
Why this is interesting:
Euromaidan SOS initiative started documenting war crimes after the outbreak of the all-out invasion. Tribunal for Putin, a coalition of human rights organizations, has been established and has already documented over 7,000 war crime episodes perpetrated by russia in Ukraine.
Relevant topics:
What is the Tribunal for Putin initiative? What is its goal? Who is in the human rights coalition?
How are the crimes documented?
What are further steps needed to punish war criminals?
1:00 PM – Natalia Humeniuk, Chief of the Joint Coordination Press Office of the South of Ukraine Security and Defense Forces (online)
Relevant topics:
Missile strikes on Ukraine's south
Navy groups of the invaders
Successes achieved by Ukraine's Armed Forces in the south front
Ukraine's Armed Forces strike on invaders' positions on the Serpent Island
1:10 PM — SPECIAL EVENT!
Nobel Prize winners Jody Williams (Nobel Peace Prize winner, USA), Tawakkol Karman (Nobel Peace Prize winner, Yemen), and Leymah Gbowee (Nobel Peace Prize winner, Liberia) will come to Lviv on a charity mission.
During the day, they will visit shelters for women and meet with representatives of non-governmental organizations and local and regional governments.
Attention! LOCATION CHANGE!
The meeting will take place at 1:10 AM at Lviv's Railway Station.
Contact person: Angelina Yashmed, +380671050055
The Media Center will function as a co-working space from 10:00 AM to 6:00 PM.
Contact phone:
+38 067 652 91 97
Read more: https://mediacenter.org.ua/news