Back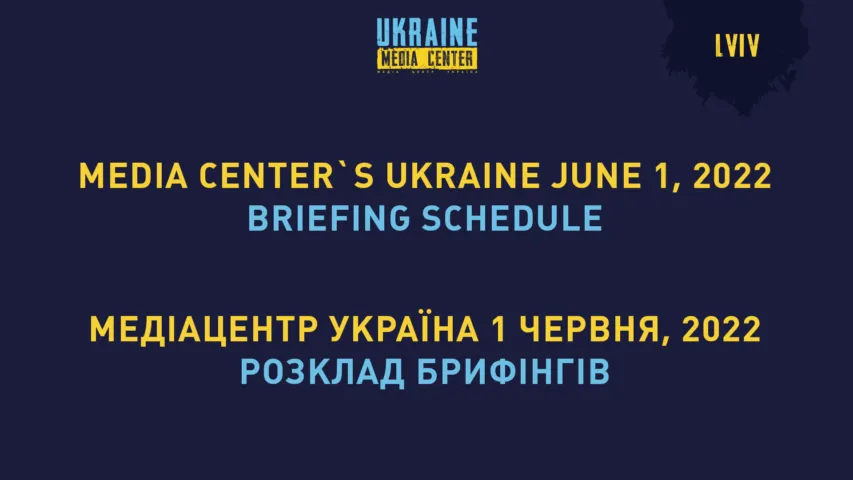 May 31, 2022, 19:58
SCHEDULE OF MEDIA CENTER UKRAINE EVENTS (LVIV, 32 RYNOK SQUARE) FOR JUNE 1
10:00 AM — Tetiana Turchyna, volunteer
Ruslana Hahan, Olha Lementarchuk, Anhelina Andrusyshyn, students of the Lviv National Academy of Arts (all in person)
In Lviv, fragments of missiles, which were shot down over the city by the Air Defense Forces and then painted by artists, will be drawn in a lottery. All the money raised will be used to help the Armed Forces of Ukraine.
The lottery started on May 30 and will end at 8:30 PM on June 1 with a live draw. The price of participation in the online lottery is UAH 100.
During the briefing at Media Center Ukraine, the organizers of the event, a volunteer and students of the Lviv National Academy of Arts, who painted the fragments, will demonstrate lots and tell:
– How the idea for the draw came to be.
– How students got the missile fragments
– How much money they are planning to raise and where specifically it will be donated.
11:00 — SPECIAL EVENT!
"A tour in Lviv that will never happen" performance
In Lviv, on June 1, "A tour in Lviv that will never happen" performance will be held on the occasion of the International Children's Day.
Empty school buses will be displayed on Rynok Square as a symbol of 243 Ukrainian children killed by the occupiers who could have come on a tour to Lviv.
#stopUkrainiangenocide
Location:
Rynok Square, northern side
The performance will last until 4 PM
11:00 AM — Natalia Bunda, Director of the Development Department of Lviv City Council, Head of the Office for Cultural Affairs
Nina Kramarеva, Second Secretary of the Ministry of Foreign Affairs of Ukraine, Secretariat of the Ukrainian National Commission for UNESCO (online)
Yuriy Rybalka, Director and Co-Producer of "Prime Orchestra" modern crossover orchestra from Kharkiv
Oleksiy Khorolskiy, Music Producer and Guitar Player at Prime Orchestra
Denys Doroshenko, Conductor of Prime Orchestra (in person)
Why this is important
In 2021, Kharkiv became a member of UNESCO Creative City for Music. That's why the musicians of Kharkiv Prime Orchestra went on a tour of European cities, which are also part of the UNESCO Creative Cities Network, to talk about the state of the creative industries in Kharkiv during the war, as well as to attract help from European countries.
Before each performance, the musicians showed a video about Kharkiv, in particular, about the terrible consequences of the invasion by the russian occupiers. The musicians performed the anthem of Ukraine and other Ukrainian songs in a modern arrangement.
The initiative was implemented with the support of the Ministry of Culture and Information Policy of Ukraine, the Ministry of Foreign Affairs and Ukrainian National Commission for UNESCO.
12:30 PM — Matti MAASIKAS, EU Ambassador to Ukraine (online)
A briefing on the topic: the EU has adopted the sixth package of sanctions against russia
Current issues:
– The new package of EU sanctions against russia: what it covers
– When russia will feel economic pressure from the imposed sanctions
– russian oil embargo: implications for Ukraine, Europe and the world
The Media Center will function as a co-working space from 10:00 AM to 8:00 PM.
Contact phone:
+38 067 652 91 97
Read more: https://mediacenter.org.ua/news