Back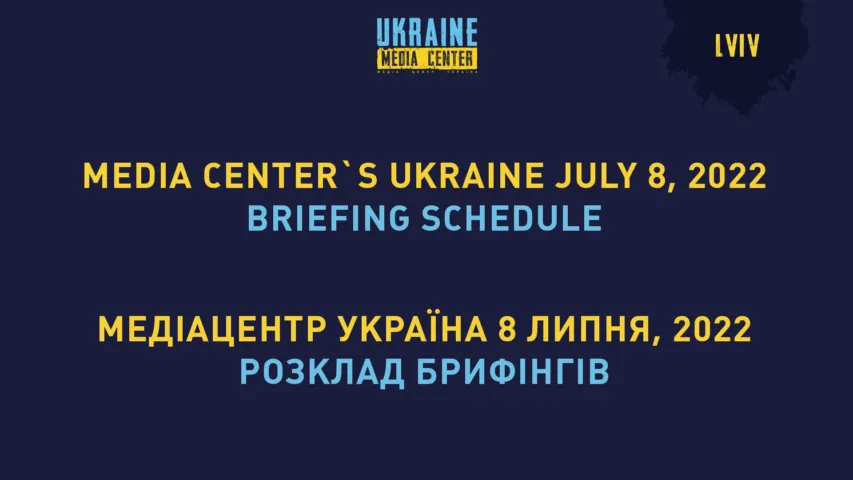 July 7, 2022, 17:58
SCHEDULE OF MEDIA CENTER UKRAINE EVENTS (LVIV, 32 RYNOK SQUARE) FOR JULY 8
10:30 AM — Mykyta Poturaiev, Member of Verkhovna Rada of Ukraine, Head of the Permanent Delegation of the Verkhovna Rada of Ukraine to the OSCE Parliamentary Assembly (online)
Current topic:
– Results of the OSCE session: the Birmingham Declaration
– Resignation of Boris Johnson: what they say about it in the British Parliament
11:30 AM — a briefing by organizers of "War through the eyes of children" charity event in support of the Ukrainian Armed Forces
Participants:
Inna Melnychenko, Organizer of "War through the eyes of children" project
Natalia Pavliuk, project Art Director
Maria Sakvuk, leading specialist of "Children Social Services" office at the Humanitarian Policy Department of Lviv City Council
(all in person)
Why this is interesting
On July 7, "War through the eyes of children" event was held in the premises of "Lviv Coffee Mining Manufacture". The event featured Ukrainian children drawing pictures, which will later be exhibited at a charity auction in Sligo (Ireland). Funds from the sale of paintings will be used to purchase specific medicines, medical supplies and surgical equipment for the Ukrainian military.
1:00 PM — Ivan Fedorov, Melitopol Mayor (online)
Current topics:
– Operational situation in Melitopol and Zaporizhia region
– Ukrainian resistance fighters: how their efficiency is growing
– Crimes committed by the russians
The Media Center will function as a co-working space from 10:00 AM to 6:00 PM.
Contact phone:
+38 067 652 91 97
Read more: https://mediacenter.org.ua/news