Back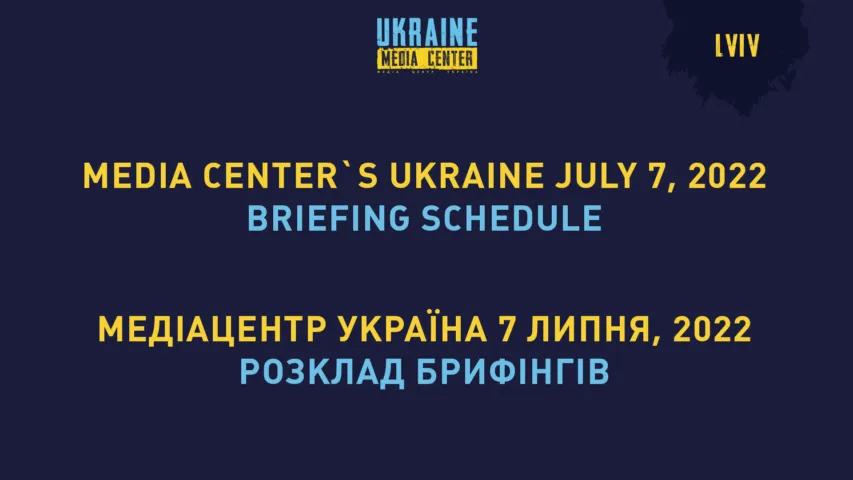 July 6, 2022, 17:32
SCHEDULE OF MEDIA CENTER UKRAINE EVENTS (LVIV, 32 RYNOK SQUARE) FOR JULY 7
11:00 AM – Anna Derevyanko, Executive Director of the European Business Association (online)
Relevant topics:
Results of the Conference in Lugano
Agreements reached during the conference
Assistance to the business and investments during the war
1:00 PM — ! SPECIAL EVENT
Discussion on Mental Health and Psychological Transformation of the Ukrainian Society and Each Ukrainian
Participants:
Orest Suvalo, Coordinator of Community-based Mental Health Services Development at the Ukrainian-Swiss Mental Health for Ukraine Project
Halyna Netliukh, Executive Director of the Ukrainian Catholic University's Mental Health Institute and representative of the Ukrainian Institute of Cognitive Behavioral Therapy
Vilena Kit, Psychoanalyst, Coordinator of Lviv Crisis Psychological Service
Natalia Zaitseva-Chipak, Sociologist, Director of Socioinform Research Center
(all in person)
Issues to be discussed:
How can mental health be preserved during the war?
How did the mental condition of each Ukrainian change after the start of the full-scale russian assault?
Methods of mental health assistance to Ukrainians: Is kitchen table talk enough, or should one seek specialist advice?
How can Ukrainian society overcome the aftermath of psychological trauma? What therapy can be offered to the community?
Psychological aid to the Ukrainian military personnel
Has the notion of the children of war become a term? How can kids adapt to the war?
The event is expected to take about 1 hour
Free admission
Visitors are requested to come 5 to 50 minutes before the event starts.
3:00 PM – SPECIAL EVENT
Topic: Denmark delivers the first 100 bikes to Lviv

Participants:
Andrii Sadovyi, Lviv's Mayor
Mikael Colville-Andersen, a renowned Danish urbanist
Orest Oleskiv, Head of the Transport Office of the Urban Mobility and Street Infrastructure Department of Lviv City Council
Why this is interesting:
Bikes4Ukraine, a Danish charitable project, delivered the first batch of 100 bikes for the Ukrainian IDPs from residents of Copenhagen. This initiative aims to support urban mobility so that a bike can be picked up free of charge at rental stations.

Attention! A different address: 57 Dmytra Vitovskoho Street (Lem Station)
The Media Center will function as a co-working space from 10:00 AM to 6:00 PM.
Contact phone:
+38 067 652 91 97
Read more: https://mediacenter.org.ua/news