Back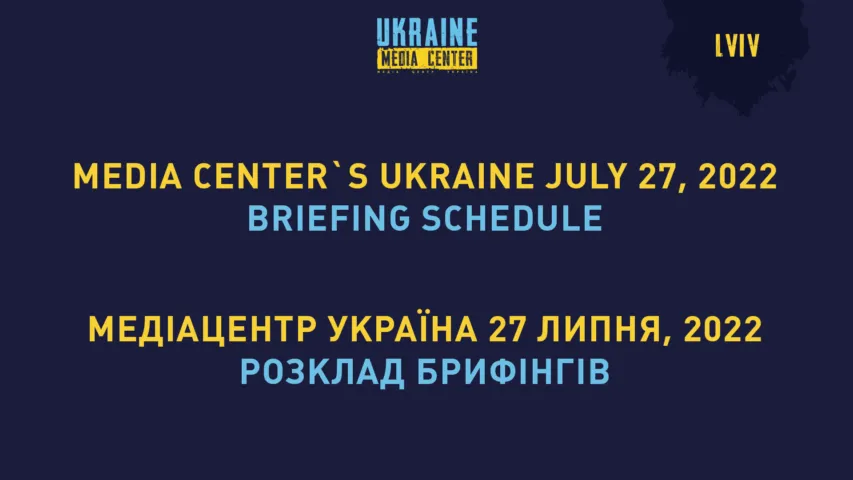 July 26, 2022, 18:58
SCHEDULE OF MEDIA CENTER UKRAINE EVENTS (LVIV, 32 RYNOK SQUARE) FOR JULY 27
12:00 PM – Andriy Moskalenko, First Deputy Mayor of Lviv
Viktoriia Dovzhyk, Acting Director of the Financial Policy Department of Lviv City Council
Nataliia Shelestak, City Council Member, Chair of the Budget Commission of Lviv City Council
Yuriy Samets, an entrepreneur who used an exhibition voucher (partially covering the entrepreneur's participation in an exhibition in Dubai) in 2021
(all in person)
Relevant topics:
Financial support for entrepreneurs by Lviv City Council
Commencement of the submission of applications and conditions for the voucher support for business during the war in the amount of UAH 100,000 to UAH 300,000
Why this is interesting:
Entrepreneurs registered in the Lviv City Territorial Community and those who relocated their business to the Lviv City Territorial Community from other regions of Ukraine are eligible for voucher support in the amount of UAH 100,000 to UAH 300,000
1:00 PM – SPECIAL EVENT!
Media Center Ukraine is hosting a discussion on Fake News, Propaganda, PSYOPS, and How Not to Fall Prey to Them
Participants:
Mariia Sahaidak, Expert of the Center for Strategic Communications and Information Security
Kostiantyn Kvurt, Chair of the Board at Internews Ukraine
Yaroslav Ivanochko, Deputy Managing Editor at ZAXID.NET
Vitaly Portnikov, journalist, blogger, and publicist
(all in person)
Issues to be discussed:
Russian propaganda: myths and realities
Information jungle: survival techniques for everyone
Turn the other cheek or punch back: should Ukraine do as russians do?
The event is expected to take about 1 hour
Free admission
Visitors are requested to come 10 to 15 minutes before the event starts.
6:00 PM – SPECIAL EVENT!
Discussion "How the war affects the economy of Ukraine and the world"
Speaker: Pavlo Sheremeta, Ukraine's former Minister of Economy and Trade
Attention! Location Change!
The event will take place in the office of Tvoe Misto Media Hub at 20a Vynnychenka St., Lviv
The event will be in English. Simultaneous interpretation in Ukrainian will be available.
The event will be about 1 hour long.
Spectators will be able to ask questions.
Contact person: +380 98 484 7450, Kateryna
The Media Center will function as a co-working space from 10:00 AM to 6:00 PM.
Contact phone:
+38 067 652 91 97
Read more: https://mediacenter.org.ua/news