Back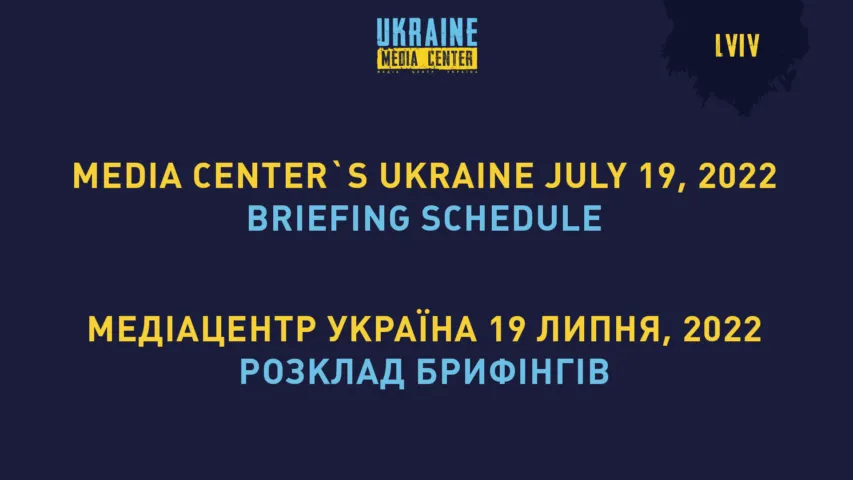 July 18, 2022, 18:55
SCHEDULE OF MEDIA CENTER UKRAINE EVENTS (LVIV, 32 RYNOK SQUARE) FOR JULY 19
12:00 AM — Galyna Bordun, Advisor to the Head of Lviv Oblast Military Administration, Head of Medical and Psychosocial Support Working Group (in person)
Briefing entitled: work of Lviv Oblast Military Administration with the communities of the region
Current topics:
Creation of consultation centers for displaced persons
Search for volunteers to accompany people with disabilities.
Why this is interesting:
Consultation and coordination centers for displaced persons (legal, psychological assistance, etc.) will be created in all district administrations of Lviv region. A total of 200 psychologists will be trained to provide assistance to people in crisis situations as part of the cooperation between Lviv Oblast Military Administration and the Ukrainian Catholic University.
1:00 PM — Serhiy Borzov, Head of Vinnytsia Oblast Military Administration (online)
Current topics:
The missile strike on Vinnytsia – the latest information about casualties and elimination of consequences.
2:00 PM — Oleksandr Sienkevych, Mykolaiv Mayor (online)
Current topics:
Mykolaiv under fire: actions and strategies of the city leadership
Humanitarian and economic situation in the city
The Media Center will function as a co-working space from 10:00 AM to 6:00 PM.
Contact phone:
+38 067 652 91 97
Read more: https://mediacenter.org.ua/news