Back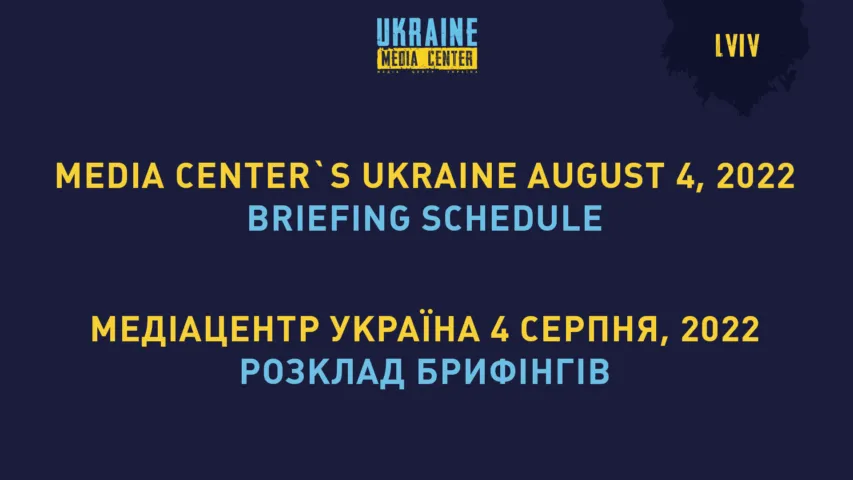 August 3, 2022, 18:26
SCHEDULE OF MEDIA CENTER UKRAINE EVENTS (LVIV, 32 RYNOK SQUARE) FOR AUGUST 4
12:00 PM – Andriy Moskalenko, First Deputy Mayor of Lviv
Jean-Christophe Bonis, Founder and Chair of TEAM4UA Charity, entrepreneur, TED speaker
Anton Kolomieitsev, Lviv's Chief Architect
Andrii Zakaliuk, Head of the Education Office of Lviv City Council
(all in person)
Why this is interesting:
An inclusive elementary school will be built in Lviv during the war. It will be erected on a modern technology basis using a huge 3D printer; the project will be funded by TEAM4UA charity, providing humanitarian aid since the beginning of the war.
1:30 PM – SPECIAL EVENT!
Briefing by Lviv and Kharkiv medics on special IDPs: How to help people who use drugs not to revert to crime
ATTENTION! A DIFFERENT ADDRESS:
8 Lepkoho St., Lviv, at the Lviv Addiction Treatment and Prevention Clinic
Why this is interesting:
During russia's military aggression against Ukraine, people using injection drugs and people living with HIV or hepatitis C, B, and other diseases migrate internally within Ukraine.
Many of these people were socialized in their native regions; they did not use street drugs, but received drug replacement therapy and medical and social assistance at regional private and state-owned clinics or assistance centers.
The war forced them to evacuate; now, these people need help to become full-fledged members of society who are integrated, socialized, and accepted, taking into account their needs.

Contact persons:
Oleh Dymaretskyi 0 (50) 909 29 62
Denys Klymenko (050) 2811314
2:00 PM – SPECIAL EVENT!
A discussion on Moral and Ethical Aspects of Journalism during the War will take place in Media Center Ukraine
Participants:
Svitlana Zhabyuk, Managing Editor of Tvoe Misto media hub
Oleg Paniuta, Journalist, TV host
Zoya Krasovska, Analyst of Lviv Media Forum
Olga Guzhva, Program Manager of IWPR's Ukraine Voices project
Issues to be discussed:
War and journalists' vocabulary: What, about whom, and how do we speak?
How should the media depict the war and its victims?
Clickbait and a successful headline: What is the difference?
Prompt reporting or incessant source verification. How to find the balance?
Event partner: Institute for War & Peace Reporting (IWPR), Ukraine Voices Project
The event is expected to take about 1 hour
Free admission
Visitors are requested to come 10 to 15 minutes before the event starts.
The Media Center will function as a co-working space from 10:00 AM to 6:00 PM.
Contact phone:
+38 067 652 91 97
Read more: https://mediacenter.org.ua/news