Back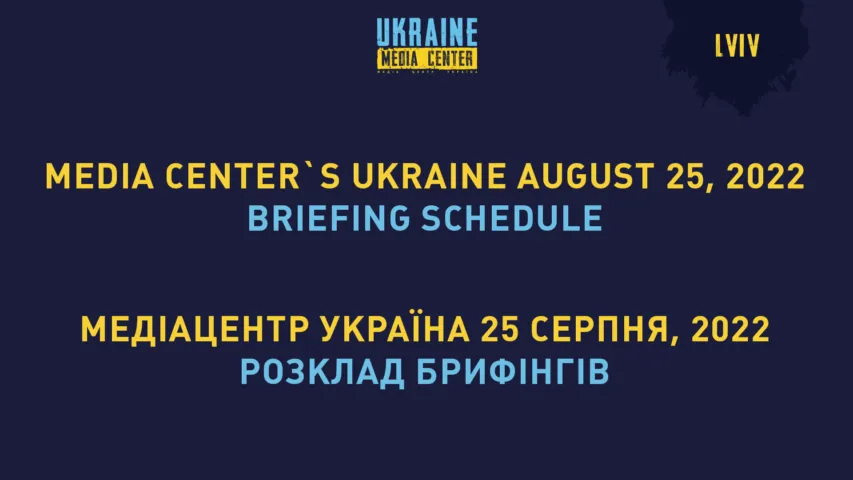 August 24, 2022, 15:59
SCHEDULE OF MEDIA CENTER UKRAINE EVENTS (LVIV, 32 RYNOK SQUARE) FOR AUGUST 25
11:00 AM – Yuriy Ignat, Spokesperson for the Air Force Command of Ukraine's Armed Forces (online)
Topics of focus:
Missile strikes by russia and the Air Force's work on August 23 and 24
12:00 PM – Maksym Nefyodov, Manager of Reform Support Projects at Kyiv School of Economics (online)
Topics of focus:
Results of the "russia Will Pay" project after 6 months of the war
Investments in rebuilding Ukraine: Are there specific proposals?
Further development of the "russia Will Pay" project
Why this is interesting:
The "russia Will Pay" project is a joint initiative by the Kyiv School of Economy, the Office of the President of Ukraine, and the Ministry of Economy of Ukraine for economists to calculate the damage caused by russia during its war in Ukraine.
1:30 PM – Yurii Schpitser, representative of Help Heroes of Ukraine, a U. S. Charity
Viktoriia Dovzhyk, Director of the Financial Policy Department of Lviv City Council
Oleksandr Khoroshun, head of the Supply Service of the 125th Brigade of the Territorial Defense Force of Ukraine's Armed Forces
(in person)
Why this is interesting:
The U. S. charity Help Heroes of Ukraine donated UAH 500,000 worth of fabric to the city of Lviv for manufacturing military uniforms. The pixelated military fabric made to the NATO standards will be used to sew 1100 uniforms for Lviv's two territorial defense brigades. Almost half of the uniforms are ready and handed over to the soldiers.
Help Heroes of Ukraine is a charity established in the USA during the first days of russia's all-out invasion by Ukrainians living in Chicago.
The Media Center will function as a co-working space from 10:00 AM to 6:00 PM.
Contact phone:
+38 067 652 91 97
Read more: https://mediacenter.org.ua/news