Back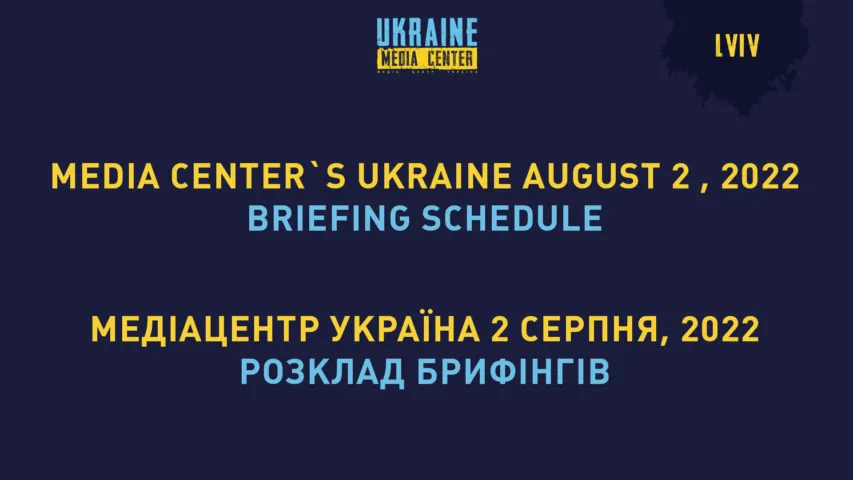 August 1, 2022, 19:05
SCHEDULE OF MEDIA CENTER UKRAINE EVENTS (LVIV, 32 RYNOK SQUARE) FOR AUGUST 2
12:00 PM – Vadym Tabakera, Deputy Director of the Economic Policy Department of Lviv Oblast Military Administration (in person)
Topics of focus:
Activities of working groups to address the issue of the accommodation of IDPs and employees of relocated businesses in Lviv Oblast
Establishing and funding the housing funds for IDPs
Actions taken by the regional government to address the issue of housing for IDPs in Lviv Oblast.
1:00 PM – Andrii Klymenko, a Crimean journalist, co-founder, and editor-in-chief of BlackSeaNews.net (online)
Topics of focus:
The first vessel with the Ukrainian grain left the seaport: route planning, risks, the way to the destination
The meaning of the Black Sea ports unblocking for Ukraine and the world
Why this is interesting:
On August 1, the first vessel with the Ukrainian grain under the flag of Sierra Leone left the Port of Odesa. The vessel must arrive at the Port of Istanbul on August 2
7:00 PM – SPECIAL EVENT!
Women. Poetry. War
Ukrainian women poets raise funds to buy an SUV for a recon unit.
Renowned poets will read their poems at Media Center Ukraine to support Ukraine's Armed Forces.
Participants:
Mariana Savka, editor-in-chief and co-founder of the Old Lion Publishing House, writer
Julia Musakovska, poet, translator
Halyna Kruk, poet, literary critic, translator
Hanna Yanovska, poet, translator, essayist
Kateryna Mikhalitsyna, poet, translator, editor
Maryna Ponomarenko, poet, screenwriter
Admission is free.
The Media Center will function as a co-working space from 10:00 AM to 6:00 PM.
Contact phone:
+38 067 652 91 97
Read more: https://mediacenter.org.ua/news