Back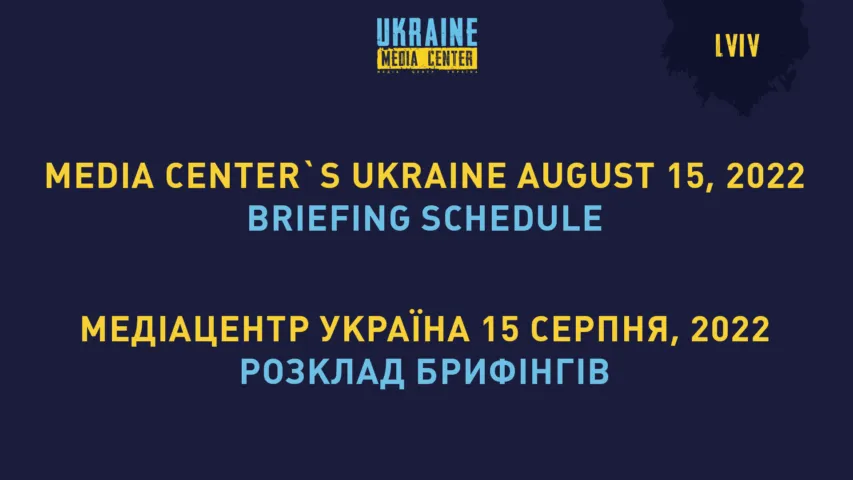 August 13, 2022, 13:20
SCHEDULE OF MEDIA CENTER UKRAINE EVENTS (LVIV, 32 RYNOK SQUARE) FOR AUGUST 15
Briefing of Edvards Smiltēns, Riga's Vice Mayor, Deputy Head of Riga City Council, rescheduled to August, 16, 10:30 AM
Topics of focus:
Latvia's assistance to Ukrainians since the start of the all-out war
Latvians' attitudes toward the war in Ukraine
The decision of the Latvian Saeima to declare russia a state sponsor of terrorism.
11:30 AM – Rostyslav Yunyk, Head of Lviv's Office for Youth Policy
Stanislav Hvozdinskyi, Students' Mayor of Lviv
(all in person)
Why this is interesting:
The Students' Council of Lviv and Lviv City Council's Office for Youth Policy hosted a social event, Diplomas That Will Never Be Issued, in remembrance of students killed due to the war. On International Youth Day, more than 40 diplomas of students from all over Ukraine who were killed fighting for independence were displayed in Rynok Square. These diplomas will never see their owners again. Only the names that are known at the moment have been indicated, while the actual number of killed students is much higher.
12:00 PM – Geoffrey Nice, a British barrister, prosecutor at the trial of Slobodan Milošević, Serbia's former president, in the International Criminal Tribunal for the Former Yugoslavia
Topics of focus:
The goal of the visit to Ukraine
Prospects of the trial of putin and the investigation of war crimes perpetrated by russians
Can Milošević and putin be compared as war criminals?
The Media Center will function as a co-working space from 10:00 AM to 6:00 PM.
Contact phone:
+38 067 652 91 97
Read more: https://mediacenter.org.ua/news