Back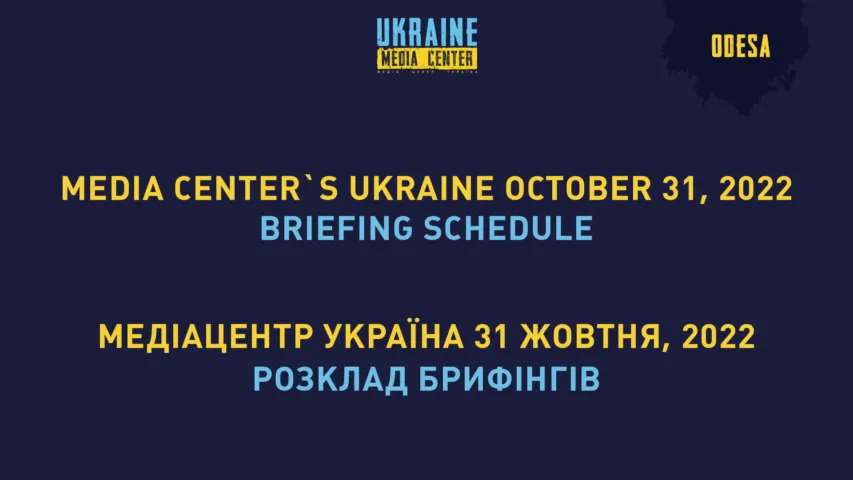 October 28, 2022, 18:00
SCHEDULE OF EVENTS MEDIA CENTER UKRAINE — ODESA (ODESA, 1/20 MARAZLIIVSKA STREET. CHORNOMORETS STADIUM (CENTRAL ENTRANCE), ON OCTOBER 31
11:00 АМ Oleksandr Babich, volunteer, military-historical center "Memory and Glory" (in person)
Topic of focus:
How Odessa volunteers search and exgumate soldiers killed in action on the Southern front;


12:00 PM — Roman Hrygoryshyn, Deputy Head of the Odesa Oblast Military Administration (in person);
Manuela Gatto, Director Zaha Hadid Architects;
Janna Kiseleva, founder and art director of JKLab architects, Head of the Design Council at the Odessa City Hall, member of the Union of Designers of Ukraine
Topic of focus:
What should be done for Odesa region to be chosen as the world exhibition EXPO 2030 location;

01:00 PM — Ilya Blokhin, head of the SafePlace4UA project and the charity organization "Youth 2.0"
Topics of focus: installation of mobile street shelters in Mykolaiv
• How business and the public came together to help Mykolaiv;
• The first installation of the shelter — a month's work experience;
• Advantages of mobile shelters;
• Experience of Israel;
• Mykolaiv's needs in mobile shelters;
More information: The first mobile shelter in Mykolaiv was set up on September 23 at a public transport stop in the Ship district of the city, where 8 people died as a result of a rocket attack on July 29.
The shelter was made according to the Israeli model from reinforced concrete. As the experience of this country shows, 90% of casualties in open air shelling occur due to flying shrapnel and remnants of missiles. Since 2009, the improvement of civil defense, through the installation of mobile shelters, has reduced the number of casualties by 71%.
The structure weighs more than 70 tons, and the main part with walls – 36 tons. There are benches for 18 people inside the shelter stop. However, thanks to a good ventilation system, the capacity of this stop is higher — more than 24 people.
For more information +380500895830
Email: [email protected]
Find us here:
Website: https://mediacenter.org.ua/
Twitter: https://twitter.com/CenterUkraine
Facebook: https://www.facebook.com/UkraineMediaCenter
YouTube: https://www.youtube.com/channel/UCakUdCyDNCdzfosJN2fAWpw
Telegram: https://t.me/mcu_odesa
Read more: https://mediacenter.org.ua/news