Back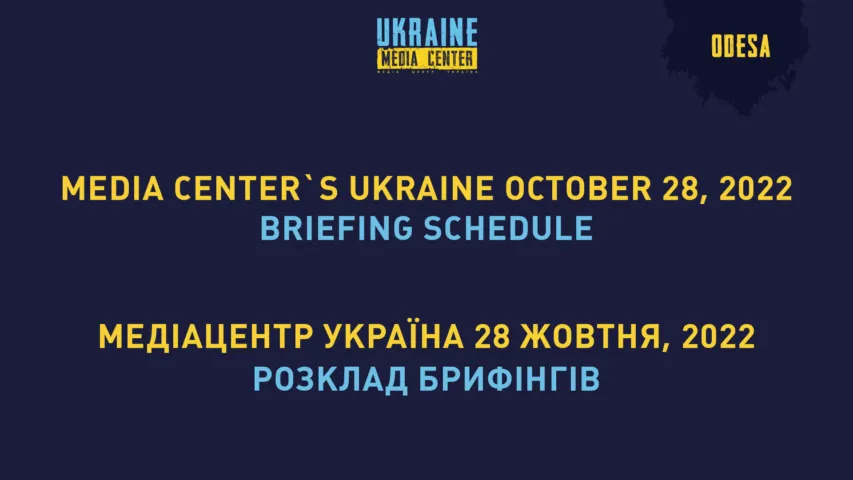 October 27, 2022, 17:08
Schedule of events Media Center Ukraine — Odesa (Odesa, 1/20 Marazliivska Street. Chornomorets Stadium (central entrance), on October 28
11:00 AМ — Serhii Bratchuk, Spokesman for Odesa Oblast Military Administration (in person)
Topics of focus:
– The current security situation in the Odesa region;
12:00 PM — Yevhen Dyky, marine biologist,
Olena Velyka, project curator art gallery Dialogues,
Olena Marushevska, EU-UNDP project European Union for Strengthening Environmental Monitoring of the Black Sea (EU4EMBLAS),
child-author of works (TBA),
Tetyana Chychkalyuk, Association for the Development of Tourism in the Mykolaiv Oblast.
Topics of focus:
How the idea of the art exhibition of children's drawing "Black Sea Diary" appeared;
Art therapy for children — why it's important;
In September this year, the EU-UNDP project "European Union for the Improvement of Environmental Monitoring of the Black Sea" (EU4EMBLAS) together with the artistic space "Dialogues" launched an unusual school for children of internally displaced persons "Black Sea Diary – 2022". A total of 29 children from Kherson and Kherson Oblast, Mykolaiv, Donetsk Oblast, and Odesa participated in the school. During six weeks, marine scientists made special presentations for children, and professional artists helped them to create their masterpieces using unusual graphics, assemblage, and collage techniques. As a result, 38 portraits of marine inhabitants were created.
02:00 PM — Panel discussion: "How theater understands and shows Russian-Ukrainian war on the stage"
Yuriy Yushchenko, art director of Odesa Puppet Theater
Lilia Shtekel, art director of Theater of Young Spectator
Valeria Fedotova, Director of Ukrainian Drama Theater
Oleg Shevchuk, actor and director of "Theatre on the Tea Factory" (online)
Tetyana Orel, PR-director of Muzical Comedy theater
Ihor Chernetskyi, conductor of Odessa National Opera and Ballet Theater
Olena Shavruk, representative of the Perutskyi Theater
From 10 a.m. to 6 p.m., Media Center Ukraine — Odesa operates in co-working mode – we have high quality Wi-Fi coverage and comfortable space. If possible, please notify the media center administrator via email, by phone or messengers about your visit. In order to use the stadium parking for free, we kindly ask you to inform the day before your arrival.
For more information +380500895830
Email: [email protected]
Find us here:
Website: https://mediacenter.org.ua/
Twitter: https://twitter.com/CenterUkraine
Facebook: https://www.facebook.com/UkraineMediaCenter
YouTube: https://www.youtube.com/channel/UCakUdCyDNCdzfosJN2fAWpw

Telegram: https://t.me/mcu_odesa
Read more: https://mediacenter.org.ua/news