Back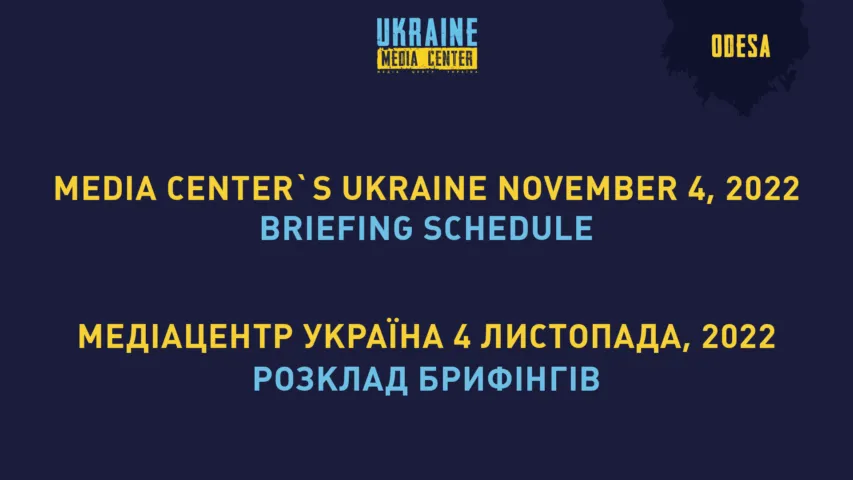 November 3, 2022, 17:30
SCHEDULE OF EVENTS MEDIA CENTER UKRAINE — ODESA (ODESA, 1/20 MARAZLIIVSKA STREET. CHORNOMORETS STADIUM (CENTRAL ENTRANCE), ON NOVEMBER 4
11:00 AM — Serhii Bratchuk, Spokesman for the Head of the Odesa Oblast Military Administration (in person)

Topics of focus:
The current situation in the region;
12:00 PM — Oleksiy Chornyi, Head of the Coordination Humanitarian Headquarters of the Odesa Oblast (in person)
Topics of focus::
How the Humanitarian Headquarters of the Odesa region prepares for winter
Report about humanitarian activities during October
12:45 PM — Oleksiy Reznikov, Minister of Defense of Ukraine (online)
Topic of focus::
The security situation in Ukraine and on the borders;
Assistance from foreign partners;
Reconstruction and development of Ukrainian military-industrial complex
Supply of Ukrainian armed forces during winter
From 10 a.m. to 6 p.m., "Media Center Ukraine — Odesa" operates in co-working mode – we have high quality Wi-Fi coverage and a comfortable space. If possible, please notify the media center administrator via email, by phone or messengers about your visit. In order to use the stadium parking for free, we kindly ask you to inform the day before your arrival.
For more information +380500895830
Email: [email protected]
Find us here:
Website: https://mediacenter.org.ua/
Twitter: https://twitter.com/CenterUkraine
Facebook: https://www.facebook.com/UkraineMediaCenter
YouTube: https://www.youtube.com/channel/UCakUdCyDNCdzfosJN2fAWpw

Telegram: https://t.me/mcu_odesa
Read more: https://mediacenter.org.ua/news