Back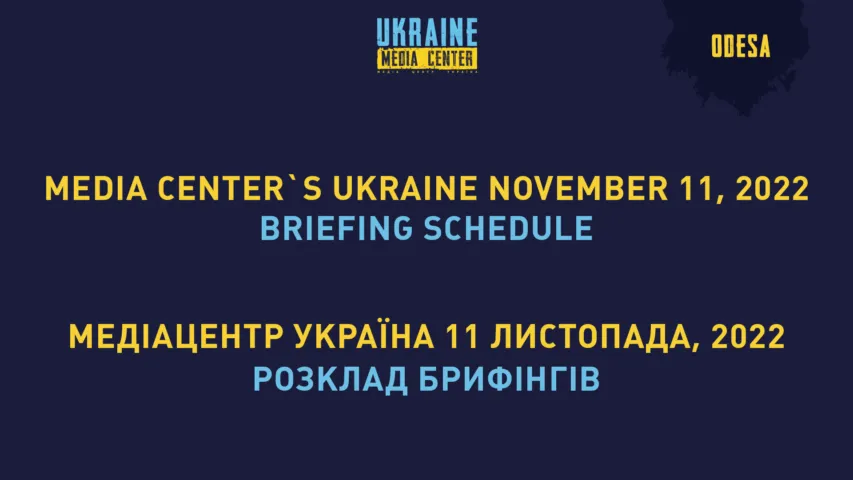 November 10, 2022, 20:39
SCHEDULE OF EVENTS MEDIA CENTER UKRAINE, ODESA (ODESA, 1/20 MARAZLIIVSKA STREET. CHORNOMORETS STADIUM (CENTRAL ENTRANCE), ON NOVEMBER 11
10:00 AM — Vadym Gutzait, Minister of Youth and Sports of Ukraine (online)
Topics of focus:
Sports initiatives for children, in particular for refugees children;
Some athletes from the aggressor countries, russia and belarus, accept Ukrainian citizenship – can this strengthen our Olympic team?
Exclusion of boxing from the Olympic program of the 2024 Olympics due to the International Boxing Federation's ties with russia – is it real or not?
What are the prospects of Iran's exclusion from the FIFA World Cup 2022 and Ukraine's participation instead?
How do Ukrainian athletes help Ukraine at the international level?
F-1 left russia. Is it possible for the stage of the "royal race" to take place in our country?
12:45 PM — Serhiy Shkarlet, Minister of Education and Science of Ukraine (online)
Topics of focus:
Evacuation of universities;
Changing the school literature curriculum due to Russian aggression;
New subjects in schools — financial literacy, English as a second compulsory language, military training for young men;
Digitization of educational institutions;
How the Ministry evaluates the consequences of several years of distance learning in schools;
What percentage of schools, kindergartens and universities work in Ukraine? What percentage of students/students are studying now?;
Teachers in the occupied territories – salary, did they leave after all
Distance learning in the conditions of war, if the heating and power cuts
02:00 PM — Felicity Gray, Head of Ukrainian Mission of Nonviolent Peaceforce International (in person)
Tiffany Easthom, Executive Director of Nonviolent Peaceforce International (in person)
Viktor Alkhimov, head of the volunteer headquarter Dream & Do it (MriiDiy) (in person)

Topics of focus:
How many humanitarian organizations will help civilians in the south of Ukraine
Directions of humanitarian projects
Volumes and terms of projects
New organizations that joined the humanitarian mission
Why it's interesting:
On November 10, in Odesa, the Network and Partnership Meeting discussed the topic: "Building peace side by side with local communities: Humanitarian efforts in the south of Ukraine."
It was a presentation of humanitarian projects aimed at helping the civilians from volunteer organizations, government representatives, international humanitarian missions and local NGO organizations.
From 10 a.m. to 6 p.m., "Media Center Ukraine — Odesa" operates in co-working mode – we have high quality Wi-Fi coverage and a comfortable space. If possible, please notify the media center administrator via email, by phone or messengers about your visit. In order to use the stadium parking for free, we kindly ask you to inform the day before your arrival.
For more information +380500895830
Email: [email protected]
Find us here:
Website: https://mediacenter.org.ua/
Twitter: https://twitter.com/CenterUkraine
Facebook: https://www.facebook.com/UkraineMediaCenter
YouTube: https://www.youtube.com/channel/UCakUdCyDNCdzfosJN2fAWpw
Telegram: https://t.me/mcu_odesa
Read more: https://mediacenter.org.ua/news