Back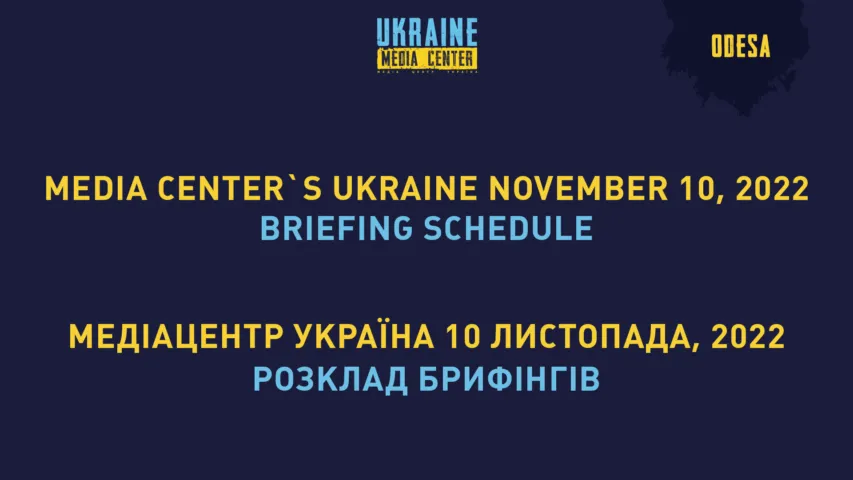 November 9, 2022, 17:30
SCHEDULE OF EVENTS MEDIA CENTER UKRAINE, ODESA (ODESA, 1/20 MARAZLIIVSKA STREET. CHORNOMORETS STADIUM (CENTRAL ENTRANCE), ON NOVEMBER 10
11:00 AM— Serhii Sudets, founder of the "Air Alert" community, lieutenant colonel of the National Guard (in person)
Topics of focus:
About the "Air Alert" community (https://t.me/raketna_neb);
The needs of air defense forces;
New samples of weapons;
How can you help air defense forces;
Ukrainian air defense forces tactics;
Armament of the occupiers
01:00 PM — Dmytro Rashkevich, military serviceman, former prisoner of war (in person); Roman Karkoshkin, military serviceman (in person)
Topics of focus:
How to behave in captivity;
The attitude of the occupiers towards prisoners of war;
Psychological rehabilitation after captivity;
How not to harm the exchange process
02:00 PM — Halyna Lugova, head of the Kherson City Military Administration (online)
Topics of focus:
Security and humanitarian situation in the region;
Looting by the occupiers;
Moods of people;
The threat of a terrorist attack at the Kakhovka hydroelectric plant
03:00 PM —  Olena Korobkova, head of the board of the Independent Association of Banks of Ukraine (in person)
Topics of focus:
How the banking system of Ukraine works during the war;
Legislation news;
From 10 a.m. to 6 p.m., "Media Center Ukraine — Odesa" operates in co-working mode – we have high quality Wi-Fi coverage and a comfortable space. If possible, please notify the media center administrator via email, by phone or messengers about your visit. In order to use the stadium parking for free, we kindly ask you to inform the day before your arrival.
For more information +380500895830
Email: [email protected]
Find us here:
Website: https://mediacenter.org.ua/
Twitter: https://twitter.com/CenterUkraine
Facebook: https://www.facebook.com/UkraineMediaCenter
YouTube: https://www.youtube.com/channel/UCakUdCyDNCdzfosJN2fAWpw
Telegram: https://t.me/mcu_odesa
Read more: https://mediacenter.org.ua/news