Back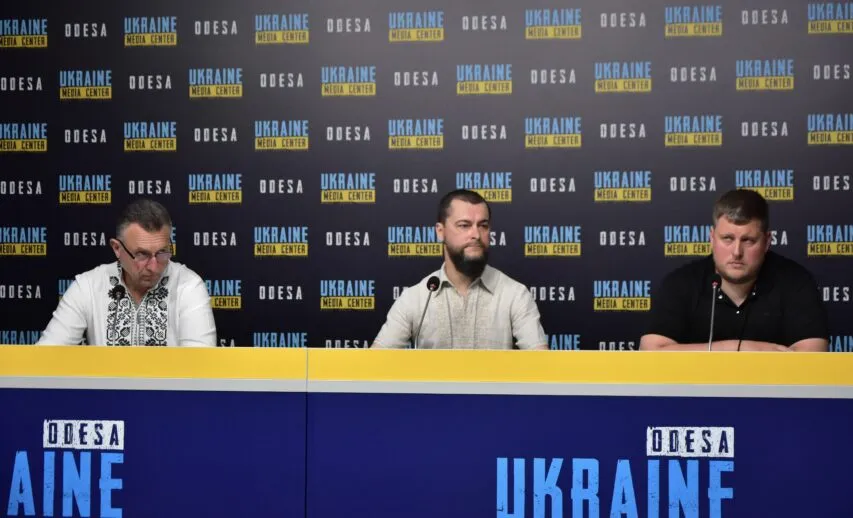 Photo by Media Center Ukraine – Odesa: Pavlo Bulanovych, director of the Department of ecology and natural resources of Odesa regional state administration; Dmytro Savaliuk, deputy director of the Department – head of the Department of environmental programs, accounting, financial reporting and organizational support of Odesa regional state administration; Vladyslav Khrushch, acting head of the State ecological inspectorate of the South-western region
May 18, 2023, 14:58
Russian aggression has caused environmental damage to Odesa and Mykolaiv regions worth UAH 93 billion (approx 2.26 bln EURO)
Water resources suffered the most – UAH 39 billion (approx 1 bln EURO), land and soil, atmospheric air – UAH 25 (0,6 bln EURO) and 27 billion (approx 0.625 bln ЕURO), respectively. This was stated by Vladyslav Khrushch, acting head of the State Ecological Inspectorate of the Southwestern District (Mykolaiv and Odesa regions), at a briefing at the Media Center Ukraine – Odesa.
"The greatest damage was caused by a drone attack on October 16, 2022, when containers with vegetable oil were damaged in Mykolaiv region and the substance got into the Black Sea and the Bug Estuary. The concentration of fats in the sea in some places exceeded the norm by 15 times. The damage to water resources amounted to UAH 39 billion (2.26 bln EURO)," – the expert added.
According to Dmytro Savalyuk, deputy director of the Department of Ecology and Natural Resources of the Odesa Regional State Administration, the most damage in Odesa region was caused by missile shelling on a high-rise building in Serhiivka and the Goji recreation center.
"The main damage in the amount of about UAH 12 billion was caused to land and soil, while the damage to the air was less than UAH 1 million," – said the expert.
Shvets added that damage estimates at other affected facilities could have been higher due to a change in the calculation methodology.
"When russia attacked the Eximnaftoprodukt and Odesnaftoprodukt oil depots, we calculated environmental damage using pre-war methods – we were working immediately after the incident. Now, we do so only after permission from the State Emergency Service. If we had worked at these facilities according to pre-war methods, the amount of damage would have amounted to billions of hryvnias," – the expert said.
Pavlo Bulanovych, Director of the department of ecology and natural resources of the Odesa Regional State Administration, noted that according to the old methods of calculation, the environmental damage caused by the shelling in Serhiivka would have amounted to 300-350 million hryvnias (729-851 bln EURO). New methods gave the amount over 11 bln UAH.
Vladyslav Khrushch also noted that not all the environmental damage has been calculated yet – for example, environmental inspectors still cannot get to Zmeinyi Island because of the danger.
Read more: https://mediacenter.org.ua/news