Back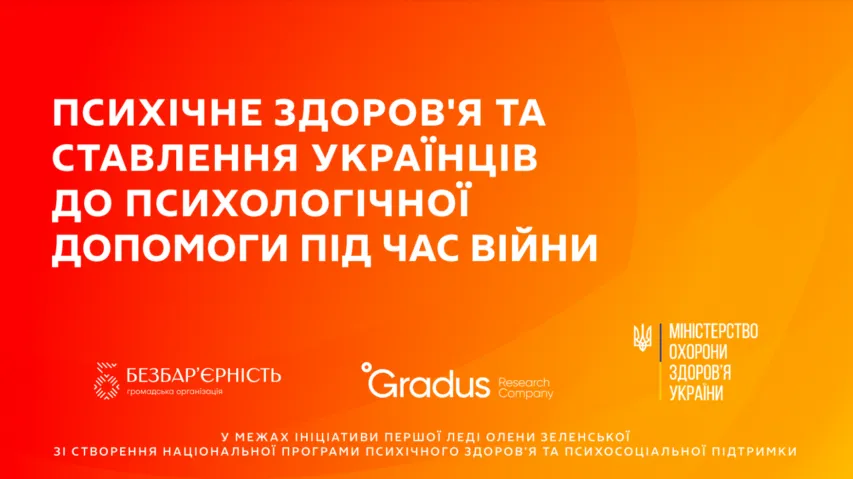 October 27, 2022, 13:34
Psychologists' research: more than 70% of Ukrainians experience stress or nervousness
Gradus researched the psychological condition of Ukrainians during the war, as well as people's willingness to seek help from specialists. The findings will be used in working on the National Program of Mental Health and Psychosocial Support initiated by Olena Zelenska, the First Lady of Ukraine.
Anna Lushchai, Head of Accessibility and Mental Health at the Office of the First Lady of Ukraine, made this statement in the Media Center Ukraine – Ukrinform.
"One of the main challenges and objectives of the National Program of Mental Health and Psychosocial Support is to spread knowledge about where and how to get psychological support and assistance. The research findings are a guide for the state and partners to act in such a way that the system of psychological support is truly accessible," she said.
According to research findings, more than 70% of Ukrainians have been stressed and very nervous since the beginning of the war. Half of respondents experience anxiety and tension. The most common reasons are fear for the safety of loved ones and their own, separation from families, and loss of jobs.
Anna Ilyenko, representative of Gradus Research, noted that during the research, people gave the frankest answers.
"During the survey, we realized that there is bias in Ukraine that it is not necessary to contact mental health specialists – and this should be also worked with. We worked with two audiences of the urban community aged 18–60 years. Separately, we worked with experts," she explained.
Experts note that despite the fact that the people's mood is quite tense and tired; however, the vast majority of Ukrainians feel hope for the best.
Please learn more about the research at: https://gradus.app/documents/308/Gradus_Research___Mental_Health_Report_short_version.pdf https://gradus.app/documents/307/Gradus_Research___Mental_Health_Report_full_version.pdf
For reference: National Program of Mental Health and Psychosocial Support is Olena Zelenska's, the First Lady's of Ukraine, initiative, which aims to help citizens overcome war-related stress and the consequences of traumatic events, and prevent mental disorders development. The program development and implementation is coordinated by the Ministry of Health of Ukraine in close cooperation with Ukrainian and international specialists. The initiative implementation is supported by the World Health Organization
Read more: https://mediacenter.org.ua/news