Back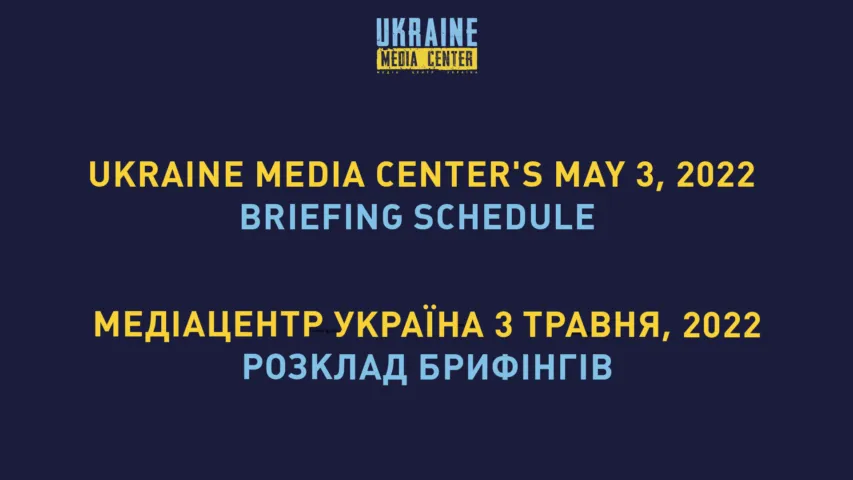 May 2, 2022, 17:55
SCHEDULE OF EVENTS AT MEDIA CENTER UKRAINE (LVIV, 32 RYNOK SQUARE) FOR MAY 3
12:30 — TOGETHER WITH UKRAINE: Lviv National Opera presents the project featuring a series of online performances of the most famous Ukrainian pieces of music for charity.
Participants:
• Vasyl Vovkun General Director — Artistic Director of Lviv National Opera
• Ivan Cherednichenko — Director, Head of the Musical Department
• Oleksandr Poryadchenko – CEO and founder of «Kontramarka»
(personal attendance by all)
13:30 — SPECIAL EVENT
Vadym Denysenko, Director of the Ukrainian Institute for the Future, Advisor to the Minister of Internal Affairs of Ukraine
(personal attendance)
Vadym Denysenko will present the report of the Ukrainian Institute for the Future «Ukraine 2022. How not to lose the chance to become a strong state» that will cover:
• scenarios for stopping the war;
• coming back to a peaceful life;
• priorities in economic revival;
• refugees and internally displaced persons.
15:00 — SPECIAL EVENT
On World Press Freedom Day, Media Center Ukraine will hold a panel «Covering war in Ukraine: Safety and freedom of speech» with prominent media workers of the country.
The event will feature journalists that are telling the world the truth about Ukraine's fight for freedom. They will discuss how media workers can work in safety during the war.
The participants will include:
• Marichka Padalko, who has reported on the war for 10 weeks on 1+1 TV channel
• Vadym Denysenko, an excellent editor in the past and an incumbent Advisor to the Minister of Internal Affairs of Ukraine
• Michael Bociurkiw, who was a Spokesperson of the OSCE Special Monitoring Mission in Donbas, and currently provides commentary for CNN and analytics for The Atlantic Council
• Vitaly Portnikov, journalist
• Andriy Shevchenko, Media Center Ukraine
The event will take place at 32 Rynok Square, Lviv on May 3 at 15.00. Participation is encouraged. Each speaker will be available for conversation after the discussion.
Live broadcast will be available at the link.
Read more: https://mediacenter.org.ua/news