Back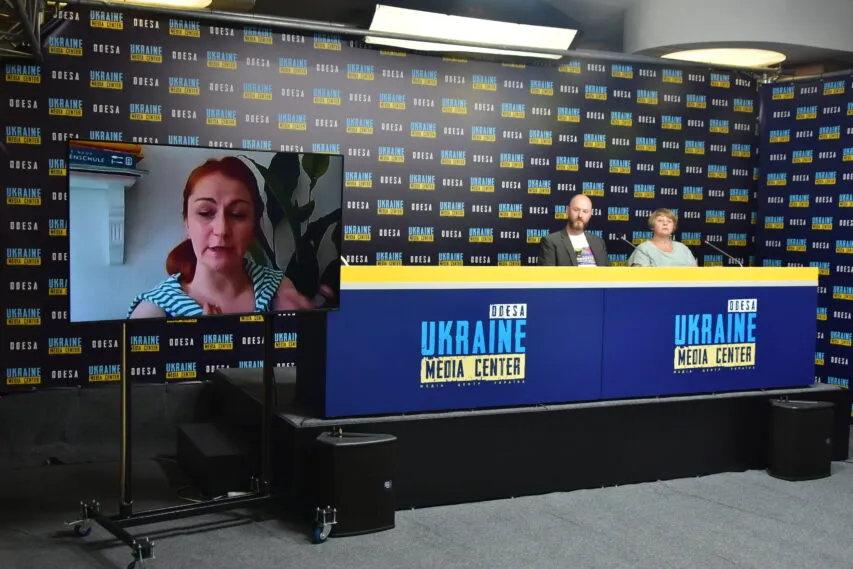 Photo by Media Center Ukraine – Odesa: Kateryna Ilyichova, coordinator of the first Odesa-Leipzig Neighborhood Book Bridge; Mitya Kovbasyuk, founder of the School of Neighborhood Culture; Nadiya Manushkina, coordinator of the book bridge in Odesa
June 13, 2023, 16:19
People in Odesa are encouraged to send books for Ukrainian children in Leipzig
The collection of books is part of the pilot project "Odesa – Leipzig Neighborhood Cultural Bridge". Kateryna Ilyichova, coordinator of the first Odesa-Leipzig Neighborhood Book Bridge, told this at a briefing at the Media Center Ukraine – Odesa.
As she noted, the main goal of the project is to prevent young Ukrainians who are living abroad, particularly in Leipzig, from forgetting Ukrainian culture because of the war. It also aims to familiarize foreigners with Ukrainian culture.
"European cities have become our neighbours. But our children live in a different culture and are looking for new friends. Our project is interesting because it is a gesture of unity and gratitude to European cities. We are grateful for the shelter and are ready to open our culture to you. Because there were no Ukrainian books in Leipzig's libraries until now, especially fairy tales and history," – Ilyichova said.
Mitya Kovbasyuk, founder of the Neighbourhood Culture School, noted that anyone can join the project.
"The main requirement is that the books must be of good quality and interesting for children aged 3 to 12, with modern illustrations, by contemporary authors, and adequately represent Ukrainian culture. The books are collected by coordinators in the yards. So, please send the books to the coordinator in your yard, who will keep them until they are sent. You can also write congratulatory texts to [email protected] or to the messenger +38(067)322-77-36," – Kovbasyuk added.
The first phase of the project is scheduled to be completed by July 25, in time for the books to be delivered on Independence Day.
Read more: https://mediacenter.org.ua/news