Back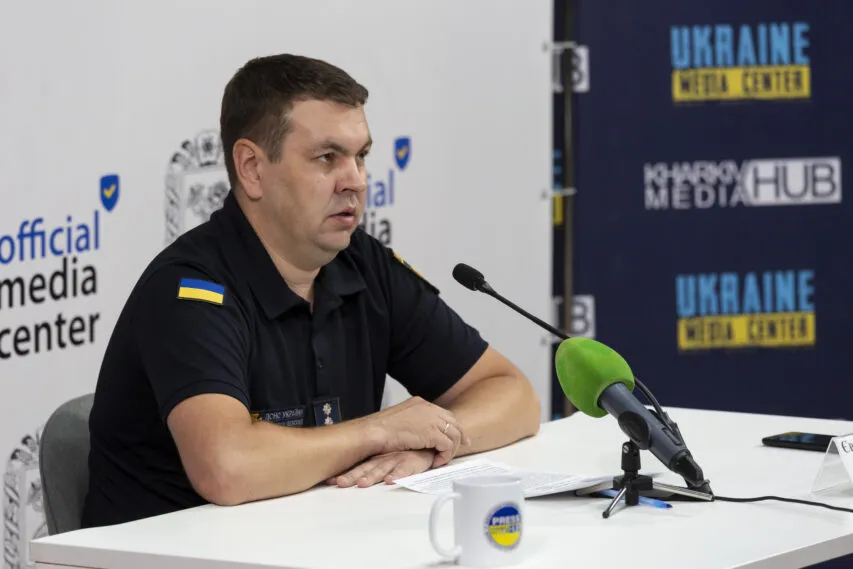 Photo Media Center of Ukraine - Kharkiv: Yevhen Vasylenko, the spokesperson of the Main Office of the State Emergency Service of Ukraine in the Kharkiv region
October 3, 2023, 21:35
Over the past week, there were 152 fires in natural ecosystems in Kharkiv Oblast, most of which were due to the burning of leaves: spokesman of the SESU in Kharkiv Oblast Y. Vasylenko
Yesterday in Kharkiv Media Hub, another briefing was held by the spokesman of the Main Department of the State Emergency Service of Ukraine in the Kharkiv region, Yevhen Vasylenko, who described the situation in the Kharkiv region between September 25 and October 2, and how it affected the population of the region.
According to him, over the past week, employees of the Kharkiv garrison of the State Emergency Service made more than 250 trips under the "Alarm" signal, 20 of which were related to enemy shelling. 152 fires in ecosystems were extinguished, during which rescuers managed to evacuate 10 civilians. Unfortunately, 2 people died.
According to Vasylenko, 34 units of pyrotechnicians and 69 units of special equipment of the combined detachment of the SESU continue work on the inspection of power lines and disposal of ammunition. In general, since the beginning of the Great War, they inspected more than 3,657 hectares of territory, about 2.65 thousand km of power lines, discovered and neutralized almost 79 thousand explosive objects.
– Unfortunately, last week the number of people who were blown up by unknown explosive devices increased to four. A man born in 1971 suffered mine-explosive injuries of medium severity, one person died, the speaker noted.
Also, the spokesman of the Main Office of the State Emergency Service of Ukraine in the Kharkiv region drew attention to the fact that the number of fires in the region's natural ecosystems has almost doubled over the past week. The cause of most of the accidents was again arbitrary burning of leaves and dry grass, which starts every year at this time. Vasylenko once again drew attention to the danger of dry burning in de-occupied territories, or where intense hostilities were taking place, as such actions can lead to the detonation of unexploded ammunition, engineering mines or improvised explosive devices.
– This is extremely dangerous, in particular, for the lives of the rescuers who will put out these fires! Therefore, we draw your attention: burning plant residues is strictly prohibited! Violation of the legislation is punishable by administrative and criminal liability. Actions that caused the death of people, the mass death of animals or other serious consequences are punishable by imprisonment! – said the speaker.
Read more: https://mediacenter.org.ua/news