Back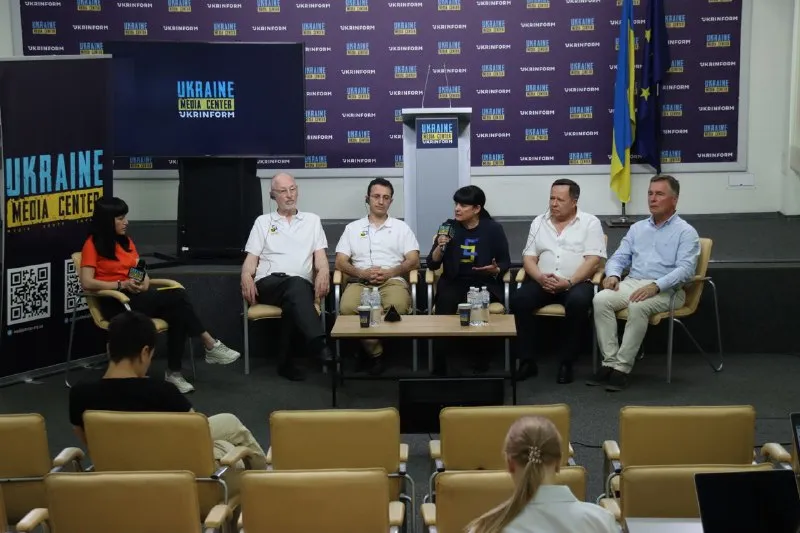 September 12, 2023, 15:51
Over short period of time, American neurosurgeons perform over 20 complex surgeries on wounded military and civilians in Ukraine
As part of the Co-Pilot Project implemented by the RAZOM foundation, American neurosurgeons arrived in Ukraine to perform the most complex neurosurgical operations and help to spread the latest expensive neuroradiology technologies for the treatment of cerebrovascular diseases.
Over the course of the mission, which began on September 4 and will last until September 13, leading American neurosurgeons Maksim Shapiro and Peter Kim Nelson, together with Ukrainian specialists, have already performed more than 20 complex surgeries on wounded military and civilians for free in Dnipro, Lviv and Kyiv.
The results of their work were discussed during the event at Media Center Ukraine – Ukrinform.
According to Peter Kim Nelson, endovascular neurosurgeon, who arrived in Ukraine as part of the mission, the purpose of his trip is primarily to show solidarity with Ukrainians, as well as the desire to help Ukraine in its development, particularly in this specific branch of medicine.
"I came to this mission for two purposes. One is just from a humanistic point of view I felt that the country was in need and I wanted to come to say that I stand in solidarity with the people here and the suffering, and I wanted to do something good. The second reason I came was to begin to learn what will be necessary to build Ukraine into the future, in my little area of endovascular neurosurgery. And what I can see going forward is that someday peace will return to this very rich country, and there will be a need for people from abroad to support rebuilding and energizing the new Ukraine," he explained.
At the same time, Mykhailo Kostiuk, a neurosurgeon with expertise in vascular surgery, noted the tools brought by American colleagues made it possible to conduct operations not only for the treatment of wounded soldiers, but also their relatives, in particular wives and mothers.
In turn, Dmytro Shcheglov, neurosurgeon, interventional neuroradiologist, emphasized that these are American neurosurgeons of the highest level, who performed a large number of complex surgeries over a short period of time.
"We are sincerely impressed by the surgeries they are performing. Because this is the highest level. And of course, we perform such surgeries too, but not so often, not so spiritually, they are too expensive. The surgeries performed by Kim Nelson and Maksim Shapiro with the tools they brought from the U.S., are approximately USD 80,000, this is per one, more or less. They did it absolutely free of charge," he said.
Maksim Shapiro, a U.S. neurosurgeon from, noted that he wants to return to Ukraine in order to develop the existing potential together with other colleagues from abroad and with Ukrainian specialists.
"The first things that were done here in terms of treatment of diseases were done with some incredible innovation, so there is rich tradition here, as we mentioned. There is world expertise. What needs to be done is that expertise needs to be disseminated. As you know, there are a lot of centers that need high-quality work, so we need equipment. I think it's important that appropriate equipment be placed in different areas. And there have to be people. In surgery the critical thing is always to have the personal expertise and the judgment. So we want to come back to build that… The plan is not only we come back, but we have to have more teams, so the other teams have gone in our area, multiple teams can go different places," the neurosurgeon said.
In turn, Olena Teriaieva, medical expert, project manager of the RAZOM Health program, assured that her organization's team will continue to facilitate visits of such medical missions to Ukraine.
"Our project is not only about professional assistance. This is a project about empathy, emotional support, and mental support for Ukrainian doctors and the entire medical community from American and Canadian colleagues in such a difficult time, when our Ukrainian doctors and doctors in general are overloaded with work, as they are providing medical assistance to both military and civilians. We will continue to work in this direction, and we will bring medical missions to Ukraine," said the medical expert.
Read more: https://mediacenter.org.ua/news