Back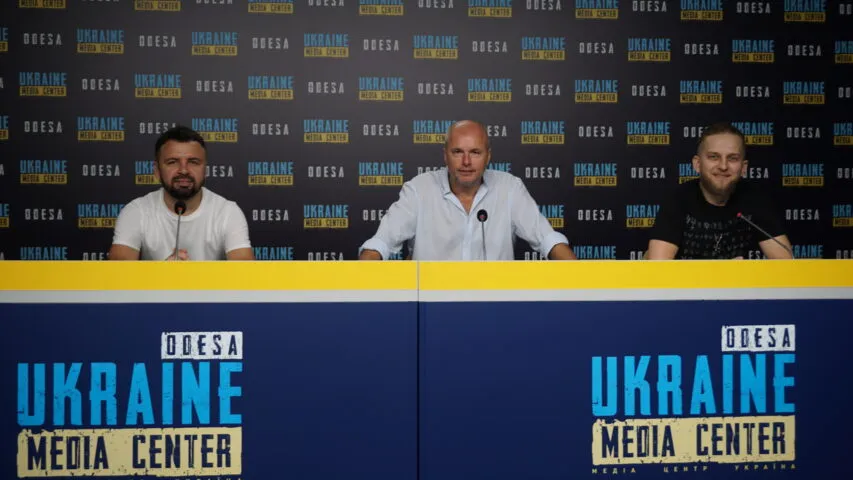 Photo by the Media Centre Ukraine – Odesa: Vitalii Malitskyi, author of the animation and editing of the historical lectures, Oleksandr Babich, author of the text and script of the historical lectures, Oleksii Biletskyi, art director of the project
August 23, 2023, 15:33
Over 15 million people have watched historical lectures about Ukraine
The project "Study! Understand! Live!" participants told about this during a briefing at the Media Centre Ukraine – Odesa.
Oleksandr Babich, author of the script for the historical lectures: "We are facing the fact that the history of Ukraine has been sufficiently distorted by russia. They have flooded our libraries, cinema, television, YouTube, etc. with its content. It has cleaned away the true history of Ukraine, so as part of our project, we have made some efforts to change this situation. We`ve shown where russia actually deceived us, what facts were hidden or defamed. We tried to compare in a fairly easy way how russia managed to take away the very term Rus from us, to explain the differences in government, trade and legislative systems, and also touched upon the language issue. Why Ukrainian is richer and more colourful and why, if we want to build our own state, we should speak our own language. This is our product of ideological warfare, our ideological weapon."
Oleksiy Biletsky, art director of the project: "The war is not only on the frontline, but on all other aspects, including the media. We wanted to create some cultural content, and our project consists of three areas: historical lectures, drawing lessons for adults and children, and express lessons on the Ukrainian language, on how to start not being afraid to speak, that is, advice from specialists. We understood that it was difficult to interest the audience when most people are now used to short video formats of up to 30 seconds. So we created animated videos 15–20 minutes each. Our first videos were watched by more than a million viewers, including YouTube and social media. The total reach is 15 million people! These are just historical lectures, which are what we focused on. By the way, some training centres are now taking our lectures and showing them to soldiers and officers of the Armed Forces of Ukraine."
The speakers added that they have released six historical lectures online, as well as 10 drawing lessons and express lessons on the Ukrainian language. In the future, they plan to translate the lectures at least into English, and maybe into other languages of the world.
You can watch the project videos here
Read more: https://mediacenter.org.ua/news