Back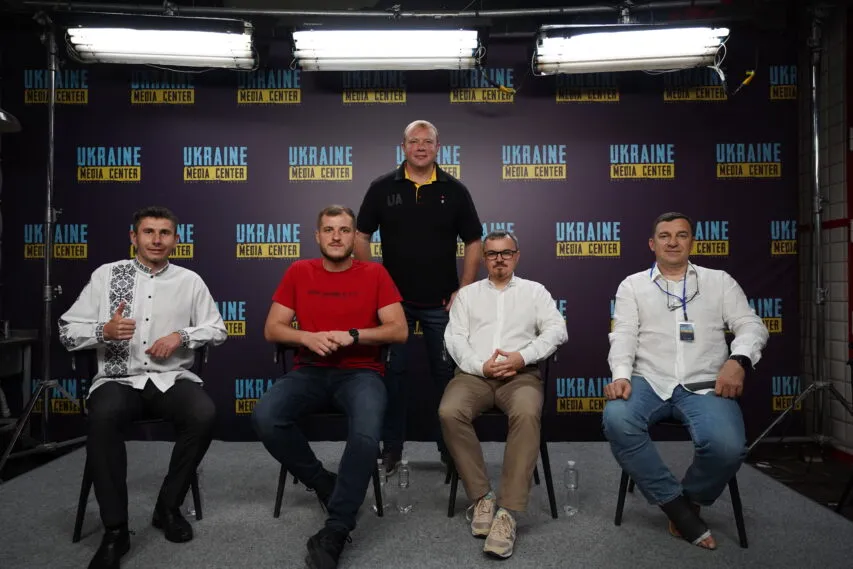 Учасники дискусії «Економіка війни: виклики та можливості» у Медіацентрі Україна, 11 серпня
August 11, 2022, 16:36
On August 11, Media Center Ukraine hosted a discussion on Economics of the War – Challenges and Opportunities
How to rebuild Ukraine after the victory and whether the challenges of the war can be turned into opportunities for economic growth – these and other topics were the subjects of the discussion at Media Center Ukraine.
You can view the full discussion video here.
The vivid quotes of panel members follow:
Stepan Kuibida, Director of the Economic Policy Department of Lviv Oblast Military Administration, spoke about the wartime economy:
"We realize that by now we have effectively switched to the wartime economy. I am not prepared to say whether there is a fundamental document underlying this process. It appears there is none, and it is an issue. On the other hand, the Cabinet of Ministers is doing the right thing. It is taking the right steps intuitively, but they are surprisingly successful, and they work. The Government and the Parliament demonstrated their flexibility. This approach has worked out. They engage actively with industries; even better, they listen to them. However, it would be the right and correct thing to come up with some document. For instance, the government must say: Lviv, Zakarpattia, and Volyn Oblasts, you are in the rear, and you have to do this or that. In my opinion, Lviv Oblast could specialize in economic security. We can pursue strategic missions here. We can develop the defense industry sector. In fact, it is already working here. We are doing a lot, but we can do even more."
Yaroslav Rushchyshyn, Member of Verkhovna Rada of Ukraine, Secretary of Verkhovna Rada's Economic Development Committee, told the following about the future of the defense industry:
"We are fighting the allegedly second army of the world, and Ukraine has no better competency recognized by the world. It may sound cynical, but, I believe, we have to "sell" this competency.
Ukraine needs to have a strategy describing how we will live and prosper. One of the options is that we should become a weapons manufacturer. There are no better experts in weapons quality than Ukrainians elsewhere. Therefore, we should consider it our goal to become a leader in this field in the world. Unfortunately, the threat is still there, so we should proceed systemically toward exporting military products; it would support economic growth and guarantee the security of future generations. It is because if one of the best weapons manufacturers is located near an aggressor, the aggressor is unlikely to encroach.
Volodymyr Vorobey, Director of PPV Knowledge Networks economic development agency, spoke about the social capital development during the war:
"The social capital is growing because people who have never left their small cities and towns earlier now have to leave them, opening something new. Hundreds of thousands of people have resided in the European Union for the first time and found out what life is like there if one is not a weekend guest who came with a budget airline. I consider it a good thing because these are social relations with Europe.
However, if one starts talking about human capital, we face the system issue. We have a disastrous situation with the human capital not because people left the country. Many of them will come back because Europe's markets are competitive, and it is not easy to show one's worth there. However, there are systems that help one obtain the qualifications that will open doors for you. Unfortunately, we don't have such systems at all. Currently, we only have some isolated solutions."
Serhii Pylypiv, CEO of Grafix, a business relocated from Kharkiv, spoke about the war as a time of new opportunities for the manufacturing industry:
"We have domestic reserves, including those intellectual, and we can use them to create products here, making products ourselves instead of sending raw materials abroad. Having visited production facilities in various countries, I can say that here we have plants and businesses that make products of much higher quality at a much lower cost. Perhaps, more help is needed from the state. Well, there is some already. We are consulting with the Chamber of Trade and Industry – they are drawing up lists of companies that used to buy products from russia and belarus. Now, we can replace those products. Thus, I can see many opportunities for Ukrainian businesses now."
Read more: https://mediacenter.org.ua/news