Back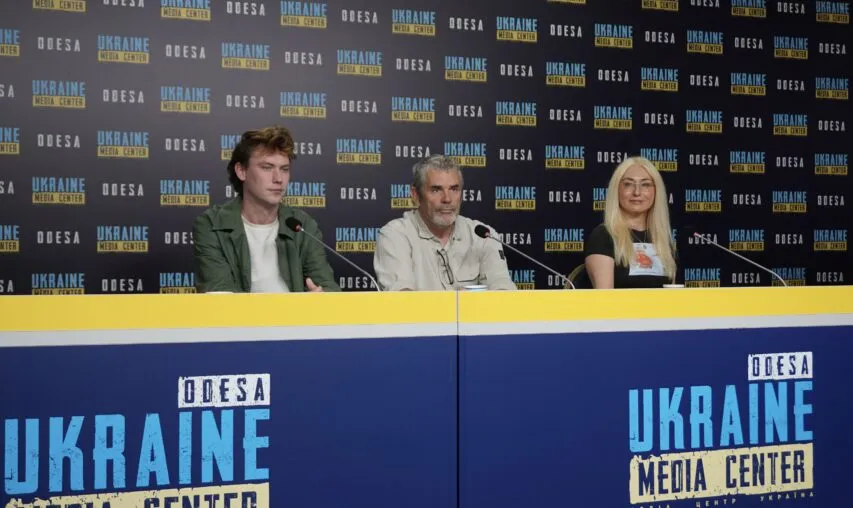 Photo by Media Center Ukraine – Odesa: Caolan Robertson, director; Paul Conroy, war photographer; Zarina Zabrisky, journalist
September 13, 2023, 14:26
Odesa's residents are invited to the demonstration of the film "Under Deadly Skies: Ukraine's Eastern Front" about russian war crimes in Eastern Ukraine
The screening will take place on September 15 at 06:00 PM at the Odesa Film Studio, in the Vira Kholodna Hall. Admission is free. The screening will also include a fundraiser to help Kherson residents affected by the war. This was announced at a briefing at the Media Center Ukraine – Odesa by the authors of the film.
According to the author of the film, journalist Zarina Zabrisky, the film is a response to Kremlin propaganda, which is already supported by some people in the United States, the United Kingdom and Europe. The authors of the film worked for two months from January 2023.
"The state policy of the russian government is to intimidate people. We have been documenting this. In our film, we talked about torture before the UN commission recognized it. We also conducted an investigation into the use of prohibited weapons by the russian military, including phosphorus bombs," – the journalist added.
According to the film's director, Caolan Robertson, during his work he often heard from other foreign colleagues that russia's position should also be shown.
"But when I saw everything with my own eyes, I realized that there is no position of russia, you cannot sympathize with it. It is an aggressor country that is committing genocide, which we showed in our film. We need more Western journalists working in Ukraine, and Ukraine needs more help," – Robertson added.
Paul Conroy, a war photographer, said that the film also demonstrates that the war is not only the fault of russian president vladimir putin.
"This is a war of the entire russian system, not just putin's fault. russians do not live behind the Great Wall of China, they see what is happening in Ukraine, but they are silent. It means they support all this," – the photographer said.
The journalists also said that they were impressed by the courage of Ukrainians who wanted to tell the whole world what was happening in Ukraine, even under the threat of death.
The authors added that if Odesa's residents can't to watch the movie on September 15, it can be found on streaming services, including Apple TV.
Read more: https://mediacenter.org.ua/news