Back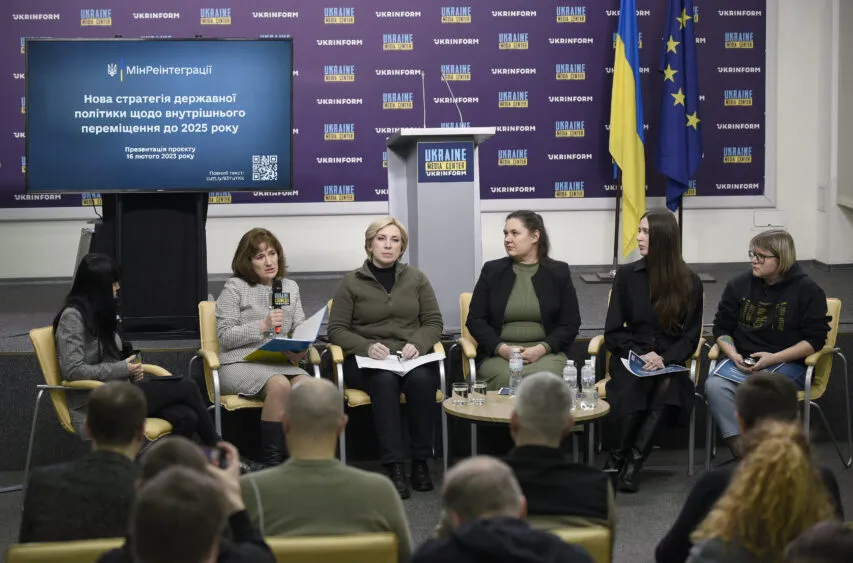 Iryna Vereshchuk, Vice Prime Minister – Minister for the Reintegration of TOT of Ukraine; Hanna Khrystova, Council of Europe Office in Ukraine representative, Aliona Luniova, Zmina Human Rights Center representative, Maria Krasnenko, Public holding "Group of Influence" representative, Valeriia Vershynina, Charity Foundation "Stabilization Support Services" in Ukraine representative, Media Center Ukraine — Ukrinform
February 16, 2023, 20:02
New State Policy Strategy on Internal Displacement until 2025 covers the whole IDPs course of action from evacuation to integration or return — Vereshchuk
The Media Center Ukraine — Ukrinform hosted the presentation of the new State Policy Strategy on Internal Displacement until 2025 project, developed by the Ministry of Reintegration together with experts from NGOs and international organizations supported by the Council of Europe project "Internal Displacement in Ukraine: Developing Durable Solutions. Phase II". Its developers told us more about it.
"There have been internally displaced persons since 2014. The former strategy needs to be kept up-to-date. And it will be an all-new strategy for internally displaced persons. It draws on all nine years of experience and all the circumstances from first to last. As soon as a person decides to evacuate, to the final stage. At this point it's our duty to either help the people to integrate into the territorial community place of arrival or help to reintegrate when moving back to the place where they left," said Iryna Vereshchuk, Vice Prime Minister – Minister for the Reintegration of TOT of Ukraine.
Aliona Luniova, ZMINA Human Rights Center representative, also emphasized the topic's relevance.
"Since early last year, we have had a drastic rise in the number of internally displaced persons, which is one of the reasons why it is necessary to talk about a new Strategy. As of February 7, 2022, 1,478,573 people were internally displaced in Ukraine, and by January 6, 2023, the number of such people reached 4,855,344," the expert said.
The Council of Europe supported the development of the new Strategy, emphasizing its desire to contribute to Ukraine on its way to comply with European standards.
"The Council of Europe has stated its position categorically, unanimously, and very clearly: the russian federation, the aggressor state, is not a member of the Council of Europe, does not adhere to the European Convention, and is not its member state. The Council of Europe makes every effort to ensure that the aggressor state is brought to political and legal responsibility and helps Ukraine by all possible means to ensure that Ukraine continues to move towards compliance with European standards even in wartime," emphasized Hanna Khrystova, Council of Europe Office in Ukraine representative.
Read more: https://mediacenter.org.ua/news