Back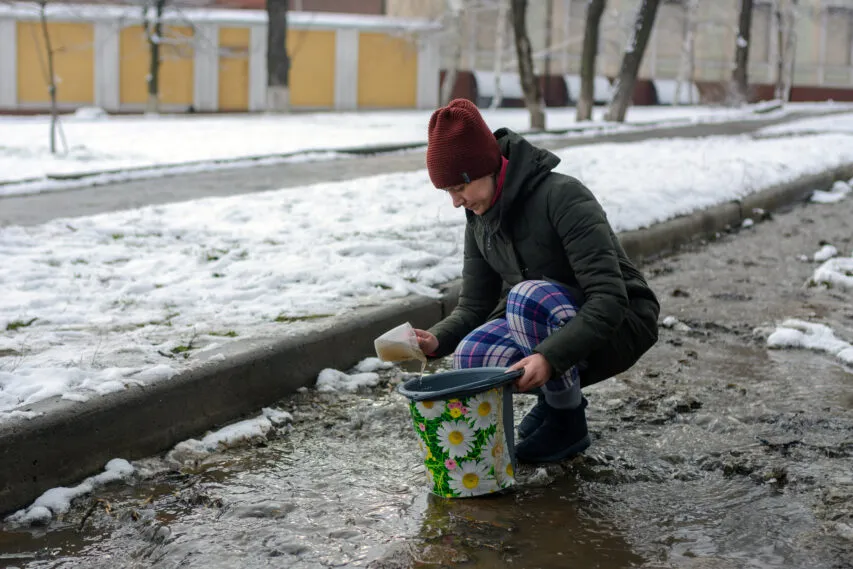 May 16, 2022, 16:32
"My Mariupol Died," Reminiscences of a Photographer Who Spent 62 Days under the Occupation
Yevhen Sosnovskyi, a photographer who spent over two months in Mariupol, talked about the city under the occupation in Media Center Ukraine — Ukrinform today, on May 16.
"It was hell. I can't say anything else about the situation in Mariupol. On February 24, we woke up as usual. We expected something to happen. And the first news of the day was war. This putin scum declared war against us. I hoped it wouldn't happen. The civilized world said they were supporting Ukraine and would respond adequately if russia crossed the red line. But the international reaction was different. There was no response like that. During the first days, Ukraine faced a vicious enemy alone. During the first days, there was no active combat in Mariupol. But we saw the news. On March 3, we heard swishes and explosion bangs in the area where I used to live in the city's Central District; my house does not exist anymore. It was frightening. You sit in the apartment's corridor and hear artillery rounds flying over your head. I had already been under shelling in 2015. That time, Grad MRLS missiles fell somewhat short of the city. This time, I went to find out what was hit. Neighboring houses were burning. People went to turn off the gas supply to the building. I went to my wife's mom to tell her we were alive. I managed even to call my daughter in Kyiv to tell her we were alive. These were the last days we had a connection. Later, there was no electricity, no running water. I kept thinking about how we would live. We still had some food left," he remembers.
Yevhen Sosnovskyi told that he had not thought about leaving the city initially. Despite how difficult it was. There was hope that Mariupol would remain Ukrainian, and the city would be defended. I had an impression that there were no air defense systems in Mariupol. When russian aircraft started launching missiles above the city, nobody could stop them. Nobody would be able to tell how much and what kind of ordinance was thrown at Azovstal Steel Works. But the metal held.
"When they bombed the Drama Theater, there was a mobile kitchen, and people queued for water and food. There were about one thousand people who escaped from Sartana and Left Bank districts. The invaders were not by the CHILDREN sign. russians destroyed the best school in Mariupol, School No. 66. All the time, we were forced to listen to the russian media. While bombing our homes and schools, they lied that they targeted military facilities. There was no military facility in the city center—They were just destroying the city," the photographer says.
Yevhen Sosnovskyi said that a projectile fell near his house on March 15, and he was buried under the debris, "I thought I would die. But later, I managed to get out of the debris."
Yevhen said shots were fired at his wife's brother and his daughter, son, and wife. She had wounded legs, but she managed to get out with her children against all odds. A piece of skin and muscle was torn from the 8-year-old boy's back; the girl had a wound on her head. It was the wounded boy who wrote the world-renowned diary.
"At that time, there were still Ukrainian soldiers with us. They only provided medicines. We dressed the wounds for the first time; the children cried a lot at night. The wounds were large, and it wasn't easy to dress them in this condition. That wounded boy wrote the diary. He did it on his own. These several pages hold more war history than thick volumes.
"My two dogs, my grandma, and my Mariupol died," this kid wrote. He painted the dogs and his grandma with angel wings. The boy is still in Mariupol. We are doing our utmost to evacuate them, but it is not that easy," the man said.
Yevhen Sosnovskyi told that russian snipers kept killing the men who ran outside to extinguish fires after the shelling.
"Kadyrovites booted us out from our apartment. We had to move to the basement without any belongings and food.
That is why I went to my apartment in the morning to get some food because I hoped the russians had already left. But I saw a burned place instead of the house. There was a body near the entrance. It was unidentifiable. My former neighbor ratted me out to Donetsk People's Republic special services as a photographer. They came to check on me, but I told them that my photos burnt away together with my apartment," he explained.
The photographer from Mariupol managed to bring his photo archives by a trick.
Read more: https://mediacenter.org.ua/news