Back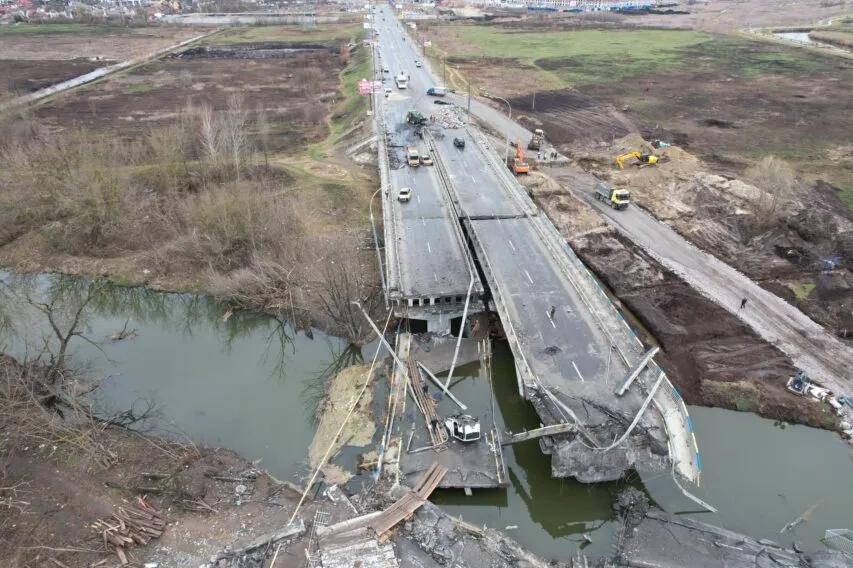 April 12, 2022, 12:39
More than 300 bridges have been destroyed since the beginning of the full-scale war – Ukravtodor
First Deputy Head of Ukravtodor (Ukraine's State Road Agency) Andrii Ivko said during a briefing at Ukraine Media Center that more than 300 bridges had been destroyed in Ukraine since the beginning of the full-scale russia-Ukraine war.
Currently, road workers are restoring crossings in the occupied regions of Ukraine, in particular, in Kyiv, Chernihiv and Sumy regions. Temporary bridges are being built for the time being, 6 crossings have already been put into operation, and dozens more are under construction.
In particular, in Kyiv region:
The crossing on R-02 road connecting Ivankiv and Dymer has been restored;
A new temporary bulk crossing was built on the Kyiv-Irpin R-06 highway in a record 6 days;
Traffic has been resumed on the R-02 road in the village of Katyuzhanka.
At the same time, the bridge in Stoyanka on Kyiv-Zhytomyr highway needs to be restored. According to the results of the expert examination, the bridge supports need to be completely dismantled and new ones need to be built.
In Chernihiv region:
A temporary bridge has been built at P83 road close to Sosnovska;
Passage through the pontoon bridge in the village of Politrudnya on the H-28 Chernihiv-Gorodnya-Senkivka road has been organized.
Ukravtodor plans to open one bridge on the R-69 (Kyiv-Vyshhorod-Desna-Chernihiv) road in two days, and another one in four days.
In Sumy region:
One pontoon bridge has been restored on H-12 road.
Ukraine Media Center. Follow the news via the links below:
Website: https://mediacenter.org.ua/
Twitter: https://twitter.com/CenterUkraine
Facebook: https://www.facebook.com/UkraineMediaCenter/
YouTube: https://bit.ly/3whbxSm 
Telegram: https://t.me/lvivmediacenter