Back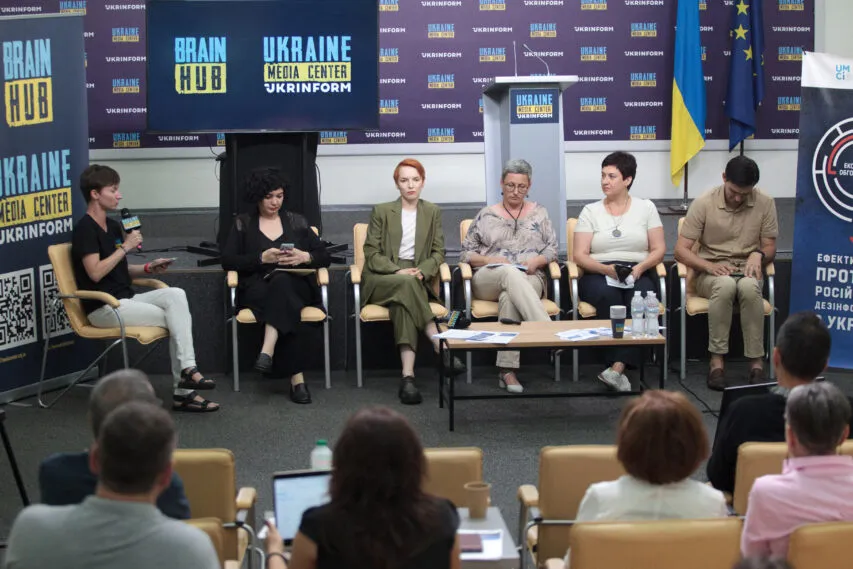 August 2, 2023, 18:46
Media environment de-occupation: how to return citizens from the temporarily occupied territories to the Ukrainian information bubble
The situation in the Ukrainian territories temporarily controlled by Russia may look different. Since different areas have been occupied for different periods of time, the presence of hostile narratives and the overall situation differ.
However, the key task is to shape people's minds even before the liberation of the territories starts. It was emphasized by Tamila Tasheva, Permanent Representative of the President of Ukraine to the Autonomous Republic of Crimea, during an expert discussion at the country's main discussion platform BrainHub in Media Center Ukraine – Ukrinform.
"We call this process 'cognitive de-occupation' or 'cognitive demining'. We have created a working group on cognitive de-occupation, i.e., work with shaping people's minds, which includes a number of elements to go over. And of course, the aspect of working with information, restoring Ukrainian media broadcasts, or at least regaining the ability to push forward somehow agendas to the peninsula, is actually our top priorities," she emphasized.
At the same time, Tetyana Stroy, Donetsk Press Club representative, also emphasized that we have to worry about planning strategies for de-occupation and the return of citizens to Ukraine's information bubble right now and promoting certain narratives in various public spheres.
According to her, it is not only about rebuilding local media in the territories under occupation. She noted that there are many media audience segments to work with. And it is already necessary to form specific decision packages and approaches.
"It's not only an issue of how to rely on the responsible media, but rather what kind of media they are and what the information policy should be. And the most important thing is what kind of state institutions will exist after de-occupation and how will the Ukrainian government's policy be implemented. It is important to emphasize that our government should be open, transparent, and understandable. And journalists are expected to provide quality content, including many explanatory content," she stressed.
In her turn, Dzvenyslava Shcherba, an analyst at Internews Ukraine, emphasized that the strategy of what the media should report and what should be done when it comes to information reconstruction should, first of all, repeat a very simple, at first glance, the message that Ukraine values its people and is waiting for all its citizens at home, as opposed to the Russian propaganda narrative that Ukraine no longer needs people from the occupied territories.
On the other hand, she believes it is essential to popularize a positive image of Ukraine.
"Russia will not tire of repeating Ukraine is a corrupt, poor state. A narrative about the so-called 404 country was exploited. It is important to show people what processes have taken place since the occupation. Especially those regions outside the reach of the Ukrainian media environment since 2014. In my opinion, it is also important to talk about the war crimes committed by Russia based on facts and to counter propaganda fabricated stories claiming Ukraine committed these war crimes," she added.
Dzvenyslava Shcherba also emphasized that it is important to take into account the local media coverage context to appeal to the significant local matters of each region.
She notes that this process will be long and painstaking, as it cannot be an action imposed by force. The analyst also emphasized that synergy between the media, the public sector, and the state is needed for the information bubble to engulf these regions and prevent undoing all the progress.
BrainHub is the country's main discussion platform created by the Media Center Ukraine – Ukrinform. It brings together experts from the state and civil society sectors. BrainHub hosts intellectual discussions around the issues of the post-war reconstruction of Ukraine. It's the birthplace of the best ideas that will become the foundation for the road map of Ukraine's reconstruction in all sectors: economy, infrastructure, education, agriculture, security, digital, etc.
Read more: https://mediacenter.org.ua/news