Back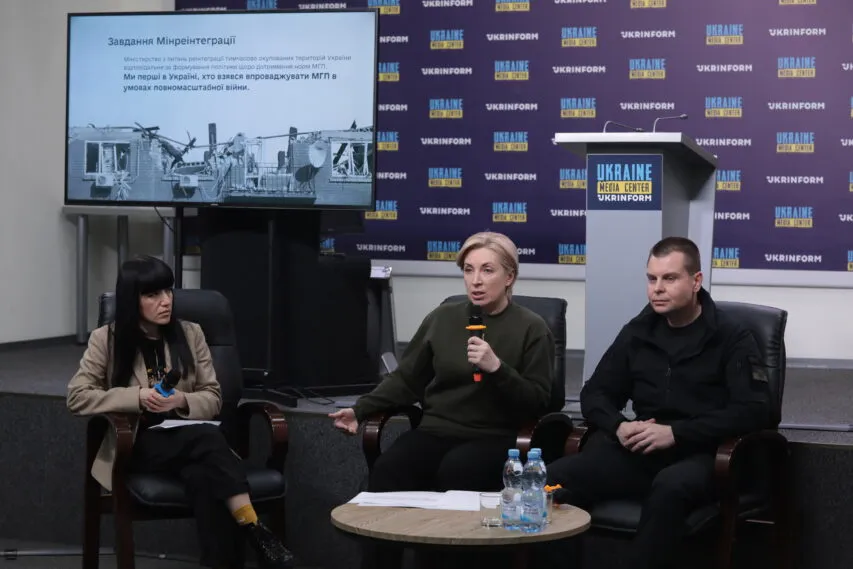 Iryna Vereshchuk, Vice Prime Minister, Minister for the Reintegration of Temporarily Occupied Territories of Ukraine, and Oleksandr Bakumov, People's Deputy of Ukraine, Media Center Ukraine — Ukrinform
December 1, 2022, 19:29
Media Center Ukraine — Ukrinform Hosted the Presentation of the Bill "On Application and Observance of the Norms of International Humanitarian Law in Ukraine"
Media Center Ukraine — Ukrinform hosted the presentation of the bill "On Application and Observance of the Norms of International Humanitarian Law in Ukraine". The bill was presented by Iryna Vereshchuk, Vice Prime Minister, Minister for the Reintegration of Temporarily Occupied Territories of Ukraine, and Oleksandr Bakumov, People's Deputy of Ukraine, Chairman of the Interim Special Commission of the Verkhovna Rada of Ukraine on International Humanitarian and International Criminal Law in the Conditions of Armed Aggression of the russian federation against Ukraine.
"History has made us feel for ourselves what the international humanitarian law is in action. As a person who was engaged in the humanitarian corridors, the formation of a coordination headquarters for the exchange of prisoners of war, deported children, kidnapping, in everything related to the mechanisms that should function, I could see that they do not function. We must admit it. The Commission was established on the parliamentary platform, and experts, specialists, public organizations and our international partners joined in, so that our first among others bill could be born. As the Cabinet of Ministers, as the President's team, we know exactly how important this is for the world. After some time, we will form the agenda on international humanitarian law and the new world order. And we will do it very well, because we know from our own experience when the mechanism does not function," Iryna Vereshchuk said.
"International humanitarian law is the very law of armed conflict, which has been developed for centuries and in the last century has proceeded with adoption of the international conventions. In particular, a number of Hague and Geneva Conventions governing the rules of warfare, the rules of conduct with respect to the prisoners of war, and the rules for interaction with civilian population during the occupation. Most important is the fact that significant violations of these regulations are war crimes. Every combatant of the russian federation who has committed a war crime on the territory of Ukraine should be punished. They have to be subject to not only national, but also international legal mechanisms. This bill opens up national opportunities for us to understand how the international humanitarian law is applied and implemented in Ukraine," Oleksandr Bakumov explained.
Read more: https://mediacenter.org.ua/news