Back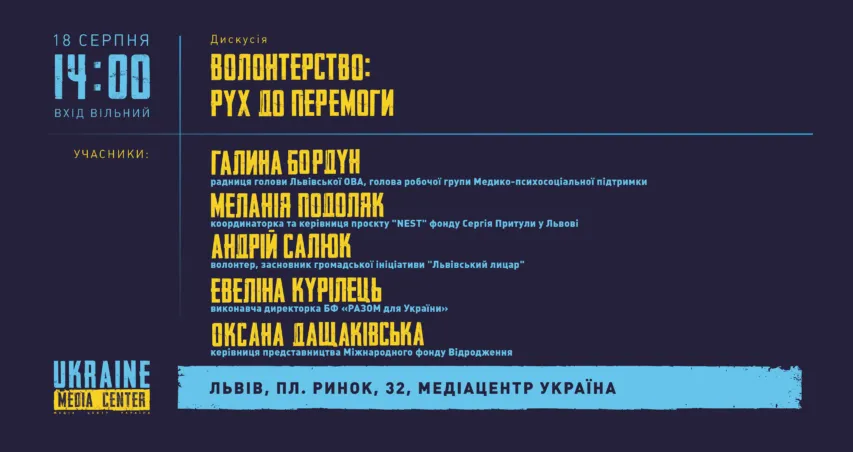 18.08.2022, 14:00
Media Center Ukraine is hosting a discussion on Volunteering: Movement toward the Victory
On August 18, Media Center Ukraine is hosting a discussion on Volunteering: Movement toward the Victory
Participants:
Halyna Bordun, Advisor to the Head of Lviv Oblast Military Administration, chair of the Medical and Psychosocial Support working group
Melaniya Podolyak, coordinator and manager of the NEST Project of Serhiy Prytula's Foundation in Lviv
Andriy Salyuk, a volunteer, founder of Lviv's Knight civic initiative
Evelina Kurilets, Executive Director at Razom for Ukraine Charity Foundation
Oksana Dashchakivska, Head of the Regional Office of the International Renaissance Foundation
Issues to be discussed:
– Volunteering during the all-out war after 8 years of the war – what has changed?
– How does society perceive volunteering and respond to it?
– Does the government support help or add more problems?
The discussion will take place in the office of Media Center Ukraine at 32 Rynok Sq. on Thursday, August 18
The event will start at 2:00 PM
The event is expected to take about 1 hour
Free admission
Visitors are requested to come 10 to 15 minutes before the event starts.
Read more: https://mediacenter.org.ua/news